Imagine a GP service that fits in with your life
Imagine you're struggling to juggle work and family but can still fit in a GP appointment when it suits you. Imagine you need a prescription for your child before they go on a school trip in 48 hours.
At AXA Health we've imagined it all. It's why we developed our AXA Doctor at Hand service powered by Doctor Care Anywhere.
It lets you speak to a GP by video or by phone, from anywhere in the world, day or night.1
And now you could benefit from GP-led tests and scans without having to take time out to see a consultant first.2
How AXA Doctor at Hand works

Anytime appointments
With AXA Doctor at Hand, GP appointments by video or phone are just a couple of taps away – 24 hours a day, seven days a week, 365 days a year.1 There's no waiting for the surgery to open. And there's no hanging on the phone for a GP appointment.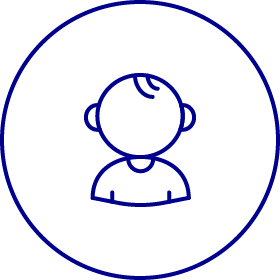 Hand-picked GPs
Appointments are with qualified doctors; experienced healthcare professionals hand-picked by Doctor Care Anywhere. You can even choose the doctor you want to see.

See a GP anywhere
Booking online or through the app couldn't be easier. AXA Doctor at Hand appointments are usually available within a few hours, and you can join from anywhere in the world – at home or when you're away. GP appointments are twenty minutes long and there's no limit to the number of times you can use the service.3

Seamless patient journeys
If something needs looking into, GPs can recommend some diagnostic tests or scans.5 You might not need to see a consultant first. A specialist will review the results remotely before the GP goes through them with you over the phone or by video call, saving precious time. If you're a member, the GP can also contact our Fast Track Appointments team directly to arrange further treatment.4

Medical records at a touch
You will have a copy of your appointment notes uploaded directly to your patient record so you've got a reminder of the conversation you've had with the doctor. Your full medical notes can be sent to your NHS GP to make sure that everyone's in the picture.
Here's how your information is kept safe
The security and confidentiality of your AXA Doctor at Hand consultation is an absolute priority for AXA Health and Doctor Care Anywhere (DCA). Here's how your private information is kept safe:
Your consultation is completely confidential and bound by the levels of patient confidentiality you'd expect with medical appointments
The website and app use the latest security technologies to keep your information secure
Regular testing of the advanced encryption systems ensures there are no weaknesses in the platform and no unauthorised parties can access confidential data
DCA work with the authorities who oversee information governance in the NHS to ensure the platform meets NHS standards
Voice and video data is fully encrypted
Consultations are recorded and stored securely as part of your patient record, to ensure the DCA service is delivered safely and as a record of the conversation
Already a member?
If you're a large corporate member, please check your Wellbeing Hub to find out if AXA Doctor at Hand is included in your cover and how to get access.
If you're an individual plan holder or have one of our plans through your SME employer, please visit AXA Doctor at Hand and enter your AXA Health membership number to access your unlimited1 AXA Doctor at Hand benefit.
Small Business
We are now offering unlimited appointments with AXA Doctor at Hand when you take out a Business Health Plan1.
1 subject to Doctor Care Anywhere's fair usage policy
Corporate
Imagine your employees not having to call to book a GP appointment, or travel to a surgery. Now your people can access a GP service wherever and whenever they want to. Discover how AXA Doctor at Hand can support your wellbeing strategy.
What AXA Health customers say...
Our customers' reviews, independently moderated and managed by feefo. Based on 0 total reviews.
1 Subject to appointment availability.
2 Dependent on the cover level chosen. Where clinically and geographically appropriate. Dependants must be aged 18 and over for a GP to organise diagnostic testing. Not available on child only policies.
3 Subject to the Doctor Care Anywhere fair-usage policy.
4 If you have private healthcare benefits, out-patient limits may apply. If you don't have private healthcare benefits any specialist referrals would need to be self-funded. All referrals and treatment recommended are on a private basis. AXA Doctor at Hand GPs are unable to refer to the NHS
5 Available in most circumstances. Out -patient prescriptions and deliveries may not be covered by the scheme and may cost more than the NHS. Medicine may not be available worldwide. Prescriptions are restricted in the USA and sanctioned countries.