When you run a business, you don't have time to spare working out what insurance you need.
You're working round-the-clock – juggling the jobs, making the meetings and delivering the service that helps you succeed.
That's why we're investing our time in keeping insurance simple, so you've got more to spend on the daily grind.
Roz is a grafter. She's built her Bo'ness-based boutique, Paper Ribbons, from the ground up – spending her days selecting stock, dressing windows and delivering gift-wrapped customer service.
When her windows were smashed, it didn't shatter her prospects. With AXA's protection, she sorted her claim on her tea break and was back to business as usual in no time.
Why AXA?

Guided quotes to get started quickly
Not sure what business insurance you need? You'll still be able to get a quick online quote, guided by a few short questions that'll help you work out what's right for your business. It's that simple.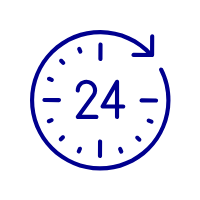 Working to pay more claims in 24 hours°
We're already paying around one in five business insurance claims in 48 hours and around one in ten in 24 hours. But we're doing all we can to make claims faster, and give you tips to speed things up.

We keep insurance simple
Sorting out your insurance isn't something you want to spend a lot of time on. Which is why we're doing all we can to make business insurance as straight-forward as possible.

Personalised cover for your unique business
Our Business Wizard will lead you in the right direction. Tell us a few details about your company and what it does, and we'll recommend the cover you need to stay protected.
Want a quote?
Ask us about the kind of insurance your business needs. We'll be happy to point you in the right direction.
"The support was there from day one - which was brilliant, as we didn't know how to claim. How does it work, are we going to get out of pocket? But we never felt that. We had more than enough information and they wanted to help."
When the windows of Roz's gift shop Paper Ribbons were smashed, AXA helped her through the claim process - meaning she got back to trading in no time at all.
1Based on AXA Business Insurance claims made between July 2018 and June 2019. Figures based on business insurance policies purchased direct through AXA Business Insurance online or over the phone.
2Not all claims are eligible – each claim is assessed on a case by case basis (see how you can increase your chance of getting your claim paid in 24 hours here). In 2018 we paid 8% of claims in 24 hours and 22% in 48 hours – and we're working to improve that.