Making a professional indemnity insurance claim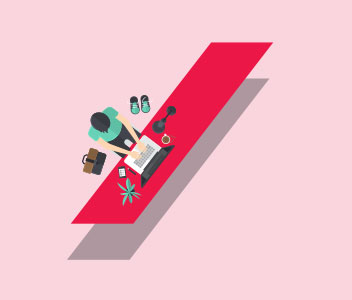 Making a professional indemnity claim
At difficult times, we're here to make things easier
AXA Professional Indemnity Insurance covers you for the value of claims made against you, as well as the costs incurred in investigating, defending or settling a claim made against you.
But we know having a claim made against you can be stressful – a quarter of small business owners worry that a client will claim for compensation for them making mistakes on client projects.1
So to help you avoid the mistakes of others and make the claims process as clear as possible for you, here are some examples of professional indemnity claims, information on why a claim might not be paid, and what to do before you contact us.
Examples of professional indemnity claims
No matter how careful you are, or how confident you are in your own ability or service, any professional can be faced with a professional indemnity claim. Here are some examples of the type of mistakes that could lead to a claim:
You're a business consultant that accidentally reveals sensitive information about a client by forwarding an email to the wrong person
You're an IT consultant and your client incurs extra costs because you specified the wrong network cabling
You're a graphic designer and you use legally protected intellectual property, such as stock photography, without permission
You're an IT consultant and you lose your laptop, which has sensitive client data on it, like names, addresses and dates of birth, on your train journey home from work
Making professional indemnity claims clear
At AXA, we want to be as clear and transparent as possible so you know what you're covered for – and what you aren't covered for.
Find out how many times you can make a claim, how much your claim can be for, and whether or not you're covered if someone makes a claim against work you previously carried out.
Cover for previous work
In general, any professional indemnity insurance policy you've held in the past no longer protects your previous work, so if a new claim is made against that work, you'll not be covered – even if you were insured at the time. But with AXA, you get the option to purchase cover for previous work you carried out before your insurance with us started.
'Any one claim' cover
Our professional indemnity insurance policy provides cover on an 'any one claim' basis, which means you're covered – up to your selected level of cover – for each and every claim you make during your period of insurance.
There's no limit
We know mistakes can happen at any time. So with AXA Professional Indemnity Insurance, there's no limit to the number of claims you can make in any one period of insurance.
Examples of when a claim may not be paid
We also want to explain some of the most common situations where a claim may not be paid – to help ensure this doesn't happen to you.
Your claim is less than your excess amount
When you make a claim, we won't pay the excess shown in your policy schedule. So if you make a claim for £180, but your excess is £250 – you won't be able to make a claim.
Previous claims
We won't cover any claim that has previously been notified under another policy, or that you were aware of before the start of this policy.
Previous work
Unless you take up the option to purchase cover for previous work you carried out before your insurance with us started, we won't cover any claim arising from the performance of your professional business that occurred previously.
If you're unsure about any aspect of your professional indemnity insurance policy, you can read and download the policy summary and wording – which you should read in conjunction with your policy schedule.
Make a claim
If a professional indemnity insurance claim is made against your business or you become aware of a situation which may result in a claim being made, tell us as soon as possible. Find out what else to do before you make a claim on our business insurance claims page.
To make a new professional indemnity claim, call us on 0345 600 2715* or email prof.indclaims@axa-insurance.co.uk
To find out about an existing claim, call 0844 381 4418** or email axaclaims@collegiate.co.uk
Policy documents
View your policy details to find out all you need to know about AXA Professional Indemnity Insurance.
Professional indemnity
Find out about how our professional indemnity policy and optional extras can protect you and your business.
1The survey of 300 small business owners was carried out for AXA Business Insurance by Taylor McKenzie Research and Marketing Ltd in April 2015.
*Our claims office is open Monday to Friday, 9am to 5pm, but any calls outside of these hours are picked up by our out-of-hours claim team on a 24/7 basis. Calls are charged at local rate and may be recorded or monitored.
**Registered professional indemnity insurance claims will be handled on behalf of AXA by Collegiate Claims, a trading name of Collegiate Management Services Ltd. Lines are open Monday to Friday, 9am to 5pm.