Proofpoint User Guide
Table of Contents
Introduction
At AXA we want to protect sensitive data, and to do this we would like to communicate with you via secure email. We use a service called Proofpoint Secure Email, this lets us communicate with you securely by encrypting the data we send and receive from you.
Before you can view these Secure emails, you will need to register just the once. The following guide takes you through the registration process, so you can access your secure messages.
From October 2019 AXA Group UK changed to a new improved Secure Email Service and as a result users will be asked to re-register their email address on first use of this service. All previous secure emails sent before this date will still be accessible as per usual.
Receiving a Secure Email from AXA Group
When you receive a Secure Email, it will look similar to the example below, you will need to click on the 'Click Here' link in the Email body or alternatively open the 'SecureMessageatt.html' attachment.
Logging into the Secure Email Service
Upon clicking the secure email link or opening the attachment you will be presented with one of two prompts; if you have registered with the Proofpoint Secure Email Service already you will just be prompted for your password or if this is the first time using the new Secure Email Service you will be asked to register your email address and set a password.
Registered users
If you have already registered on Proofpoint, you will only need to input your password.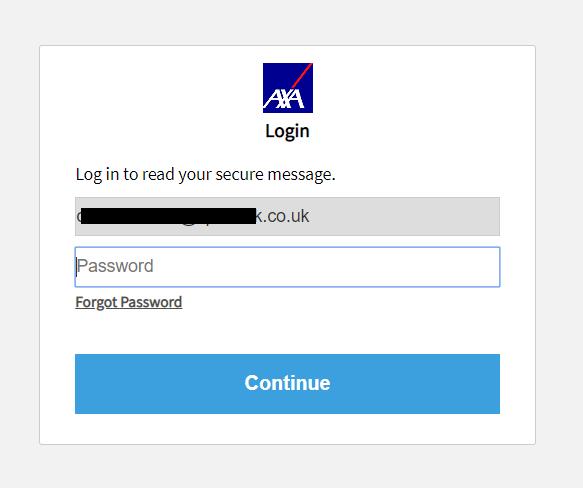 Registering for the first time
If this is the first time you are accessing the Secure Email Solution you will be asked for your First Name, Last Name and to set up a new Password.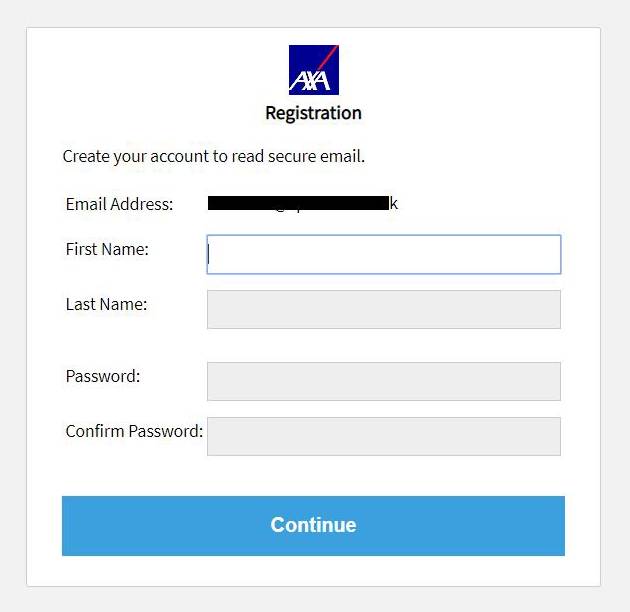 Viewing and replying to your Secure Email
Once you have logged in you will see your secure email. On this page you can:
Reply – To reply to the sender only please select Reply
Reply to All – If the email has other parties included in the email 'Cc'd' you can reply to all recipients
Access Help – For troubleshooting and more information on Secure Email
Logout – This will log you out of the Secure Mail site.
Storing your secure email
Each secure Message you receive will include a 'SecureMessageAtt.html' attachment. You can download this attachment to your computer for your own records. This is a copy of your secure email.
Replying to Secure Emails
To reply to a Secure Email, you must select either 'reply' or 'Reply all' from the Secure Email you have been sent.
You will then be able to reply to the email and add attachments if needed. All of which will be encrypted when sent back using the Secure Mail Portal.
Send me a Copy – If you would like to receive a copy of the email to your email account you can select this option.
Please Note that email copies will not be sent Encrypted
Forgotten password
If you have forgotten your password, please select 'Forgot Password' on the Secure Email Login screen. You will be emailed a link to reset the password, and once reset use the new password to log on.
Frequently Asked Questions
What is this new Proofpoint Secure Email Service, and what about my existing Secure Emails?

Why can't I open the attachments I receive in my secure email?

I use PGP or Ironport, but I have been asked to register for Proofpoint. Why is that?

Should I be worried about compliance with Government standards when using your Proofpoint system?

Why can't I forward on emails?

How can I download my Secure Message?

I am still having problems with Proofpoint secure email. What can I do?

Our Business uses a shared/group mailbox when using Secure Email with AXA, how should we register?
Accordingly, AXA UK plc and its affiliates make no representations or warranties, including warranties of merchantability, or fitness for a purpose, and has no responsibility or liability for a customer use of Proofpoint, even if recommended by us.