Suzi's business is built on ambition
There's a story behind every business
Suzi's business began with a dream, and a fearless pursuit to make it a reality. She decided to become an architect when she was just seven years old. She's been working towards it ever since. These days, she's the founding director and principal architect of her own firm, Grey Rose Architects. After nearly two years in business, her client list is as enviable as her 90% tender win rate. She's changing how tomorrow looks.
There's a story behind every business. A big idea. A spark of inspiration that ignited a big ambition. Because it takes courage to start a business. It takes a bold step to push on and do things your way. And when it gets tough, it's your restless determination that keeps it going. We get it. Because we're restless too.
What sparked your business ambition? Tell us on Instagram or Twitter #AXABusinessStories. We'll be sharing our favourites.
Meet Suzi
Only 26% of architects in the UK are women◈. I'm proud to be one of them. I see my gender as a differentiator, not a weakness. That's what Grey Rose is all about. I chose Rose Quartz and Steel Grey pantone for my branding, not only to complement the Grey Rose name, but to challenge the industry norms. It's always been a hit with new clients who find it refreshing. In a sea of dark blue, the feminine branding stands out.
READ SUZI'S STORY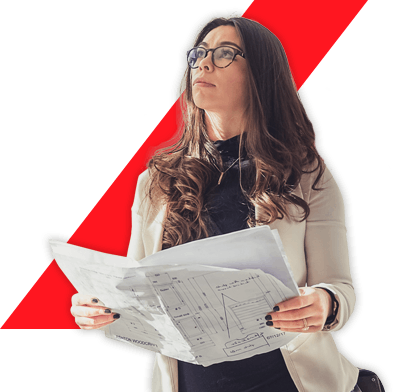 "I started tutoring to encourage other women into architecture. You can challenge the industry by starting your own firm. There's a lot of freedom in running a business, in an industry built on traditions, it's refreshing to do things differently. "
Suzi, Principal Architect - Grey Rose Architects
---
Related Articles
It takes dogged determination to run a business. And when faced with a hurdle it's not always easy figuring out where to search for a solution. That's why we created Business Guardian Angel. It's packed full of content to inspire, inform, and empower your next move – whether you're getting to grips with social media, or working out 'allowable' expenses. Check out the latest BGA articles here.
Running a business isn't easy. But with AXA, protecting it is.
Because you can tailor our cover to your individual business' needs. Whether you're a plumber, or an architect, we're on hand to help you choose the cover to help you take on tomorrow. We're restless for a reason.

◈According to the ARB 26 per cent of those on the register are women.