If sun drenched beaches and adventures on the other side of the world sound like your idea of heaven, you're obviously not alone.
More and more of us are choosing far flung flight destinations than ever before. In fact according to Thomas Cook, family long-haul flights are up 64% year on year in 2019.
But while a holiday at the opposite end of the earth sounds like perfection, you have to get there first. And that usually means surviving a long-haul flight.
So to help start your holiday the right way, here's AXA's hacks to make the long-haul flight more manageable.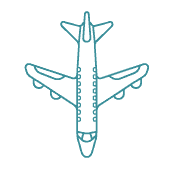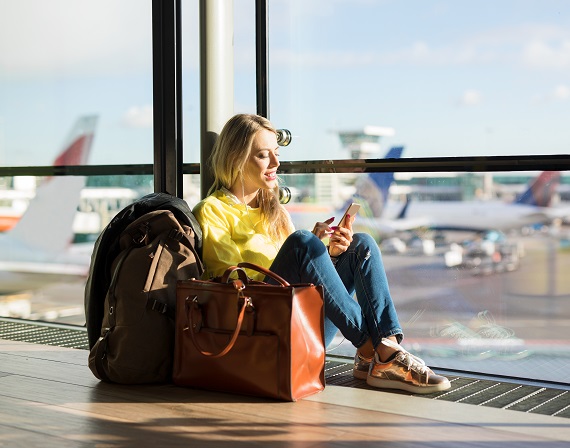 1. Pick your seat
The first step to surviving a long-haul flight happens before you even get to the airport: picking your seat.
If you're feeling flush, investing in an upgrade is the best way to ensure a comfortable journey. With extra legroom, fully reclining chairs, better quality food and drink, it could help make the trip go a lot more quickly.
If a first-class upgrade is pushing the boat out a little too far, it's worth considering paying a little extra to choose your economy seat. If you value leg room, go for an aisle seat so you can stretch and move around more easily. If sleep is most important, a window seat can give you a handy wall to lean against while you catch some z's. And if you want to avoid the pain of a long flight next to a crying child, avoid the front of the plane – this is where many airlines prioritise children's seats on longer flights.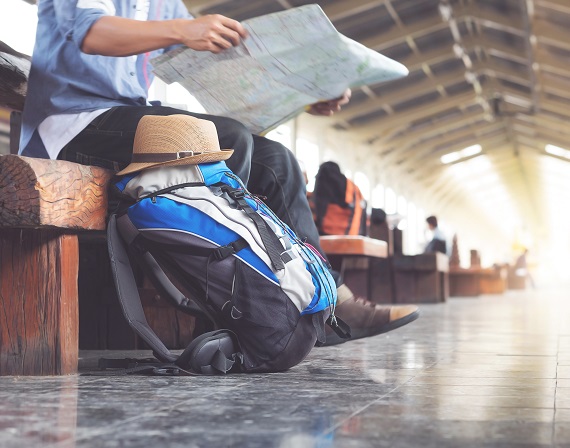 2. Don't overpack
On long flights in particular, it might seem like a good idea to throw everything but the kitchen sink in a carry-on bag in case of every possible emergency. After all, it's a long flight, and who knows what you might need?
But remember, the more you take onto the plane the less storage space you have, and anything you need to put under the seat in front of you means less legroom.
Instead, a good long haul flight tip is to pack light and stick to the in-flight essentials: a tablet instead of books or a bulky laptop (plus a charger!), headphones, water and snack, any medication and only the essential toiletries.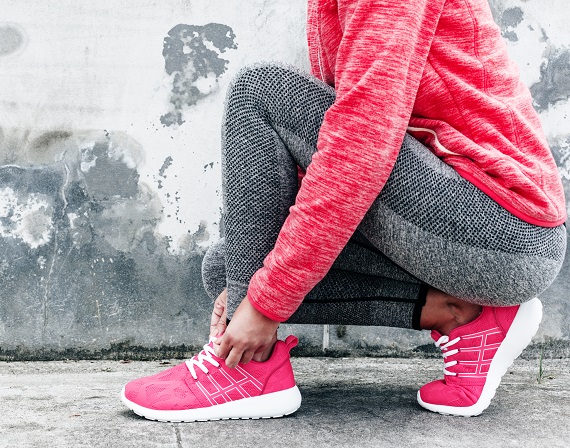 3. What to wear on a long haul flight
You're here for the long haul, literally – so let's get comfortable.
When deciding what to wear on a long haul flight, it's good to wear a few light, loose fitting layers. These will help you adjust your temperature by adding or removing some layers as the temperature climbs or falls.
Comfortable, loose jogging bottoms might work better than skinny jeans for a long journey, and remember to keep any reading glasses or eye masks in your carry on bags and not in your hold luggage for ease of access.
Take off often means shoes off, but no one wants to see (or smell) a stranger's bare feet, so invest in a good pair of compression or flight socks to help stay comfortable and keep your circulation going at the same time. And when considering footwear, avoid high heels – they probably aren't the most comfortable things to have on your feet for hours on end, and in the unlikely event of an evacuation, you can't wear them on the inflatable exit slide.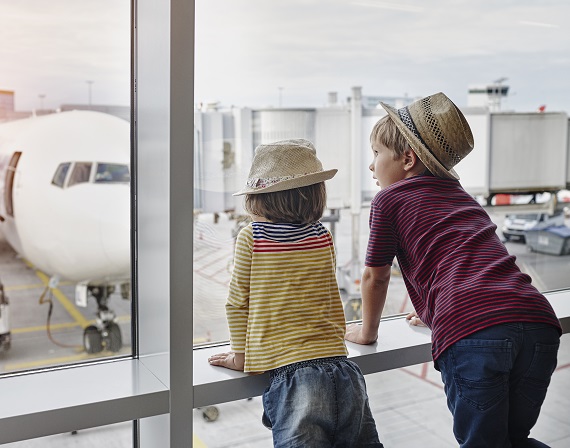 4. Bring entertainment
Travelling with kids? Then it goes without saying that entertainment is a must. But a long haul flight is a long time for anyone to keep themselves occupied, so a good book, movie or tv show can be a godsend.
A long haul flight can be anything between 6 and 12 hours. That's a lot of time to kill – enough time to binge an entire season of Game of Thrones (10 hours), or a full season of Friends (12 hours). You can read Crime and Punishment on a 10 hour flight, or if podcasts are your thing, you can listen to the full first season of Serial in just over 8 hours.
In-flight entertainment can sometimes be hit and miss, so it's worth bringing your own. Books can be bulky, but a Kindle or tablet can hold much more content in a much smaller device. And while podcasts, binge-worthy tv shows and movies are good for long journeys, they can be a drain on your tablets, laptops or phones, so download some in advance so you can devour them offline or on flight mode.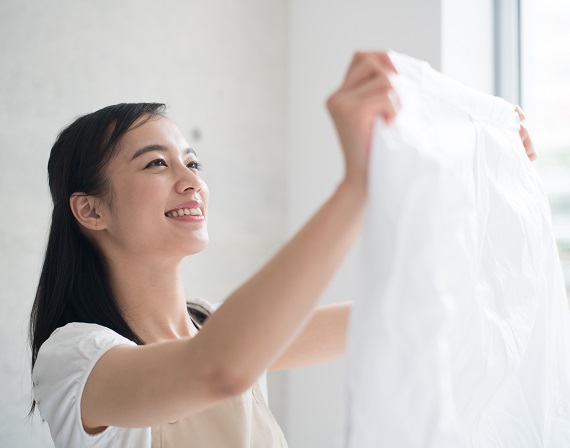 5. Freshen up
Flying takes its toll on everyone's freshness, so take some time to stay fresh and clean and your body (and your fellow passengers) will thank you.
Skin can dry out on long flights, so bring some travel-sized moisturiser in your carry on bag. And since airplanes can be notorious hotspots for illnesses like cold and flu, bring hand sanitiser and anti-bacterial wet wipes to fend off unwanted germs.
A good long haul flight hack is to try to stick to a 'go-to-bed' routine just as you would do at home. That means brush your teeth, taking off your makeup and getting into your pyjamas. If you usually read before bed at home, stick to this routine and bust out the book before bedtime. It'll help you get psychologically ready for sleep and you'll feel all the better for it too.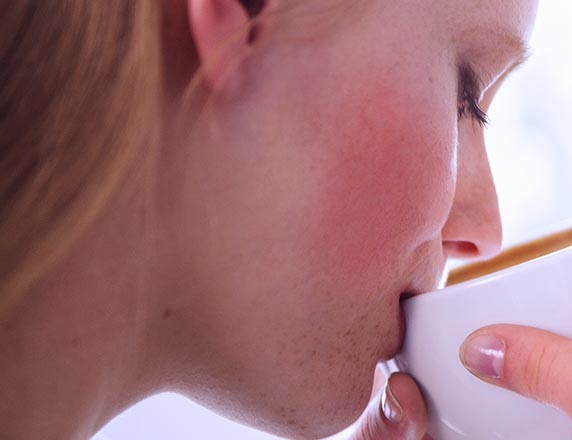 6. Eat and drink
In-flight meals are often the butt of many jokes, and although they've come a long way in recent years, the best way to ensure a good meal on your journey is to bring your own.
Planes are dry environments, so it's important to stay hydrated. Avoid salty foods and bring a refillable water bottle to fill as soon as you pass through security. And instead of junk food snacks like chocolate or crisps, stick to protein-rich foods which will keep you full for longer.
A beer or cocktail on a long flight is a great way to relax, but it's important not to overdo it and to moderate your alcohol intake carefully. Alcohol acts differently at altitude than on the ground and can take effect more quickly than you expect. Additionally, alcohol can also interfere with your body clock, making your journey to the land of nod even trickier, so if you're looking for tips to beat jet lag, getting tipsy on the plane isn't the answer.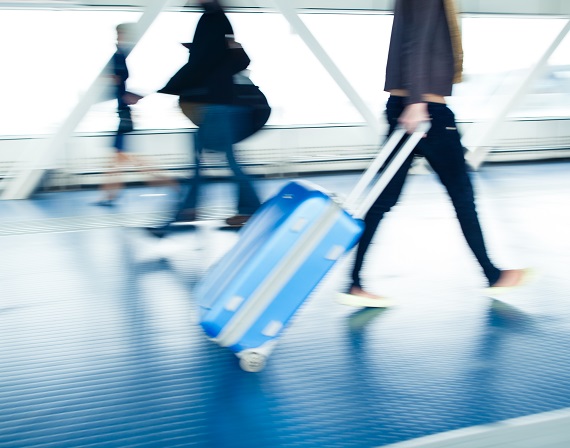 7. Move around
Not only is sitting around in the one location for long stretches not the most exciting way to spend your time, on long-haul flight in particular it could have serious health implications.
Low cabin pressure, combined with long periods of inactivity, can increase the chances of deep vein thrombosis (DVT) – a type of blood clot that develops in deep veins, particularly in the legs.
The best way to reduce the risks of DVT on long-haul flights is to keep the circulation flowing. Do some gentle exercises like making small circular movements with your ankles, get up and walk around regularly, and invest in a pair of flight socks or compression tights, which improve blood circulation around your feet and legs.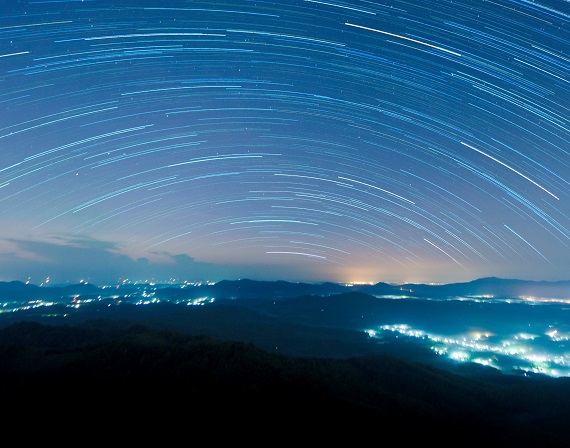 8. How to beat jet lag
Jet lag occurs when we land in a country whose time zone is out of sync with our own internal body clock. And stamping out jet lag starts while you're still in the air.
When you get on the plane, set your watch to the time of your destination to get yourself psychologically aligned, and try to rest as if you're already in your country of origin in order to lessen the shock when you land.
Avoid the bar as alcohol can disrupt your body's natural sleep rhythms, adding to your jet lag woes. Same goes for coffee. And don't take sleeping pills to knock yourself out, as introducing further unnatural sleep patterns will do nothing for your jet lag in the long run.
And the best way to stamp out jetlag? Number 9 on our list…
9. Get some sleep
Falling asleep on a flight can be tricky at the best of times, but on a long-haul journey and an overnight flight in particular, the pressure of getting some shut eye before you land to stave off jetlag can work against you, and you could find yourself unable to drift off.
The best way to promote sleep is to relax and let it happen naturally. Avoid sleeping pills which could leave you groggy and disoriented, and avoid coffee at all costs. Instead, opt for some herbal teas designed to promote sleep like chamomile.
A good neck pillow can make all the difference, while comfortable slippers and a lightweight blanket can make you feel like you're in your own home instead of halfway around the world. Add in some ear plugs or noise cancelling headphones to drown out the engines or noise from fellow passengers, and you'll be touching down in the land of nod before you know it.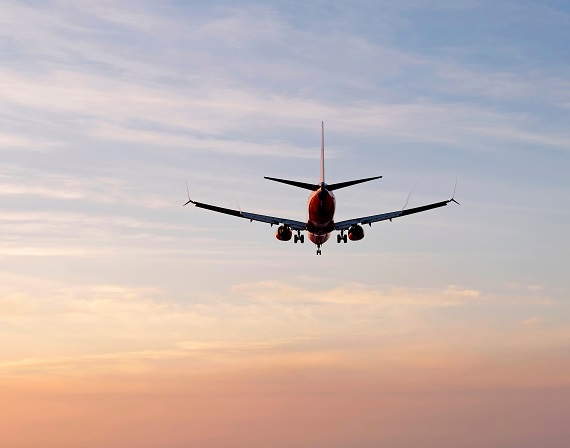 10. Get peace of mind
So by now your tray tables are stowed, armrests down, window blinds up, and seatbelts fastened in preparation for landing. You've survived your long haul flight and you're looking forward to the holiday.
So the last thing you want to be doing now is worrying about losing your luggage, having your trip cut short or any unexpected injuries while you're on your holiday, right?
Travel is never without risk, but having the right travel insurance in place can protect you from the pain of cancelled flights, unexpected injury or losing your luggage after you land, leaving you wearing the same pair of socks for a week.
To find out more about single or multi-trip travel insurance from AXA, visit axa.co.uk/travel-insurance
You've survived your long haul flight!
On a long haul flight, you've got a good amount of time to yourself, so use it wisely. Instead of looking at the flight as a chore, use the time to get excited for your trip. Read up on your destination, plan some activities, catch up on that book or task you haven't gotten round to yet. Relax.
Sometimes it's not about the journey, it's the destination, and incorporating some of the above tips will help to ensure you touch down relaxed, refreshed and ready to start your holiday.
Start your trip the right way with AXA Travel Insurance
Cover your annual travel from just £34 a year* with AXA Travel Insurance.
Up to £15 million medical cover
Up to £5,000 cancellation cover
70 sports and activities covered as standard
Quick and easy online medical screening
Make a claim online anytime, anywhere
* 10% of our customers paid this or less beween July and September 2020