While us Brits aren't renowned for expressing our emotions, one thing we are passionate about is DIY.
Our research reveals that 90% of us have our own tools, and most of us take on projects because we love the challenge and are eager to test our skills*.
But worryingly, one in five householders admitted that a fear of 'rogue traders' leads them to take on odd-jobs around the home. It's not surprising then that just over three million people have suffered a DIY fail so severe it put them in A&E or that 16% of people have had to take time off work to tackle the aftermath of a DIY disaster.
And it's after these disasters that tradesmen turn out to be our best friends! Our findings show that tradesmen spend on average 22% of their week fixing botched DIY jobs (that's one working day a week) and most – 65% – won't charge extra if the job takes longer as a result of the customer's best intentions.
So is it smart to be a Jack of All Trades? Or is it time to call in the professionals?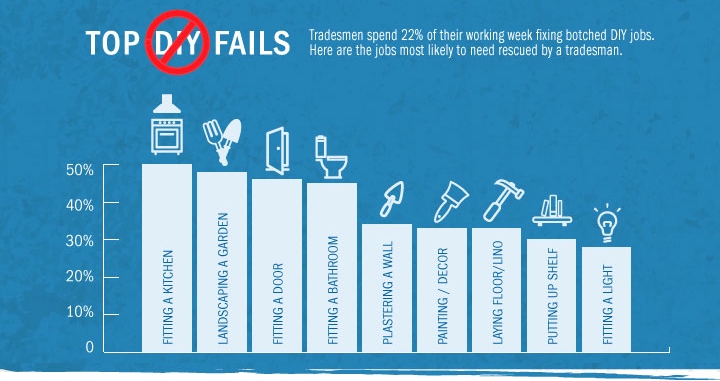 According to our research:
Electricians are the trade most likely to be called out to fix a botched job – spending an average of 31% of their time fixing customers' attempts at electrical work.
Those born after 1980 are twice as likely to have learned their skills through online tutorials, while older people have mostly learned 'the hard way' through trial and error or more traditional methods like books and manuals.
This generational split was also reflected in skill levels, with 'youngsters' aged 35 and under far more likely to call in a tradesmen to do simple tasks than older people. Only 3% of over 55s would call a tradesman to rewire a plug, compared to 28% of those under 35.
So what's your view? Should we leave it to the professionals? Or is there still life in Generation Jack?
Find out more about AXA's public liability insurance
*Based on an AXA Business Insurance survey of 2000 consumers and 320 tradesmen in the UK conducted in November 2015.