Manchester Then and Now


---
How has your high street changed?
Use our sliders to explore Manchester's high streets and discover how they've changed
---
From pedestrianisation to new transport routes and from the latest retail trends to old favourites closing up shop, nowhere feels the impact of modernisation quite like the UK's high street.
But is a changing high street really all bad news for local retailers? What does this really mean and how can you keep your business relevant in the face of change?
We're taking a look into the past of some of the UK's busiest shopping destinations to pull out some lessons history can teach us about staying the course in retail. Here, we're swaggering up Madchester itself: Manchester.
Manchester has been a shopper's paradise since it was given the right to host markets by William the Conqueror in 1066. From the funky independent shops of the Northern Quarter to the high-end boutiques of King Street, every shopper (and retailer) can find a space to suit in this northern powerhouse.
Use the sliders to compare and contrast Manchester's streets then and now.
Cateaton Street
---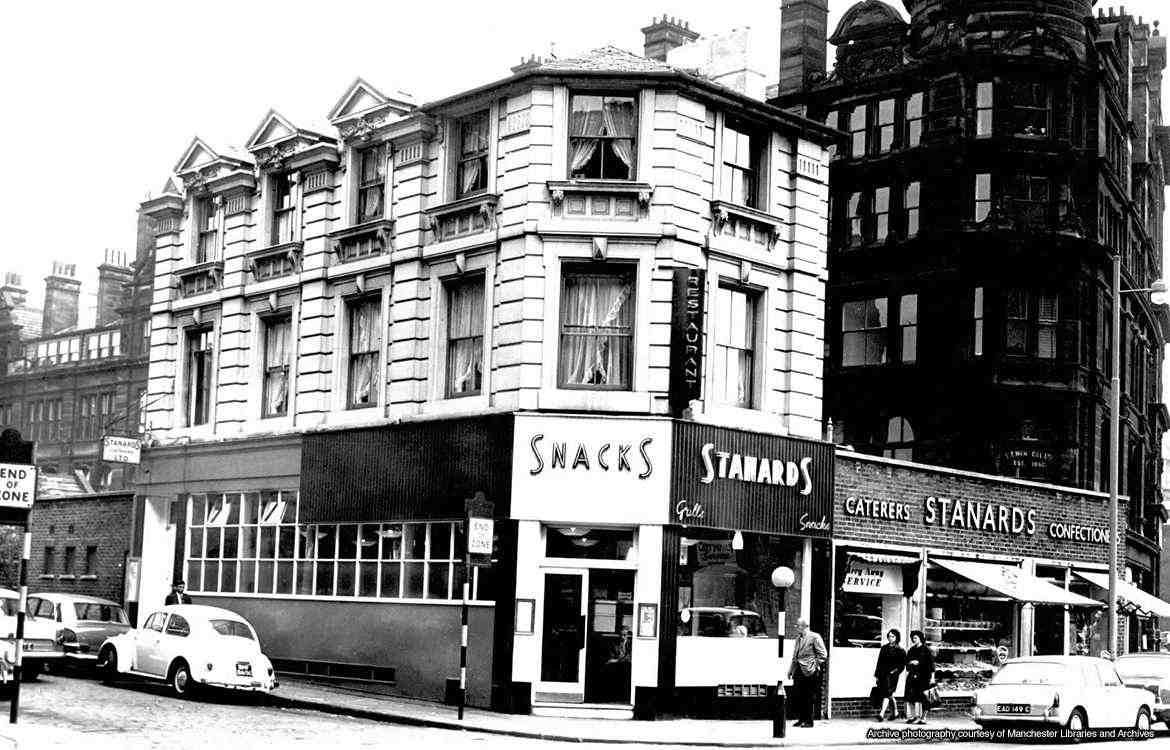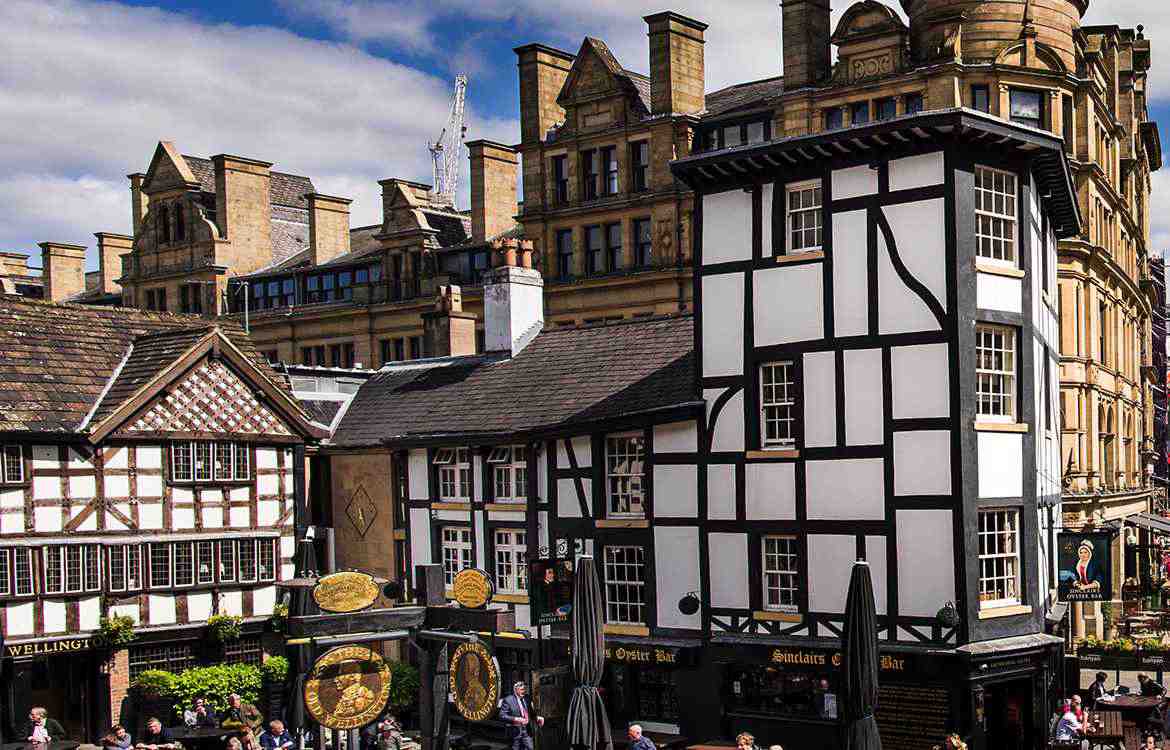 Cateaton Street is small but mighty. Located in the Cathedral Quarter, it's the quick way to the Harvey Nichols restaurant and home to a handful of lively bars. The small street's identity as the place to be for a swift pint goes back far beyond the 1960s. The Crown and Anchor pub dates back to 1793, and has attracted a variety of owners and punters over the years. The modern-day pub has areas that are decorated in both contemporary and traditional styles – a smart idea for keeping existing clients while also reaching out to new ones.
Savvy new retailers also celebrate the history of Cateaton Street. At one end, now part of the Manchester Cathedral Visitor Centre and St Denys' Bookshop, are the remains of the medieval Hanging Bridge. It was built to cross the Hanging Ditch, and this curious name is commemorated by Hanging Ditch Wine Merchants, which opened its cellar and cafe in 2008.
Small but lively, and embracing new ventures while keeping its traditional role as a socialising space in both spirit and architecture, successful businesses in Cateaton Street make the most of the picturesque setting by creating spaces their customers want to stay and linger in.
Market Street
---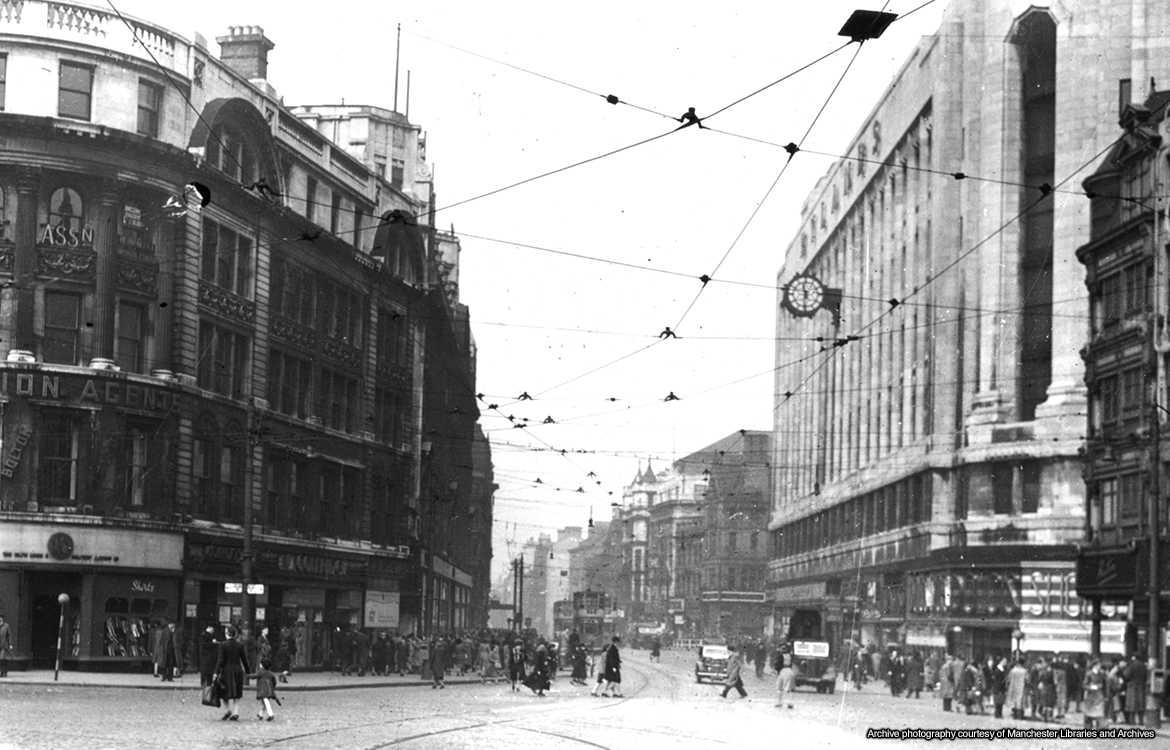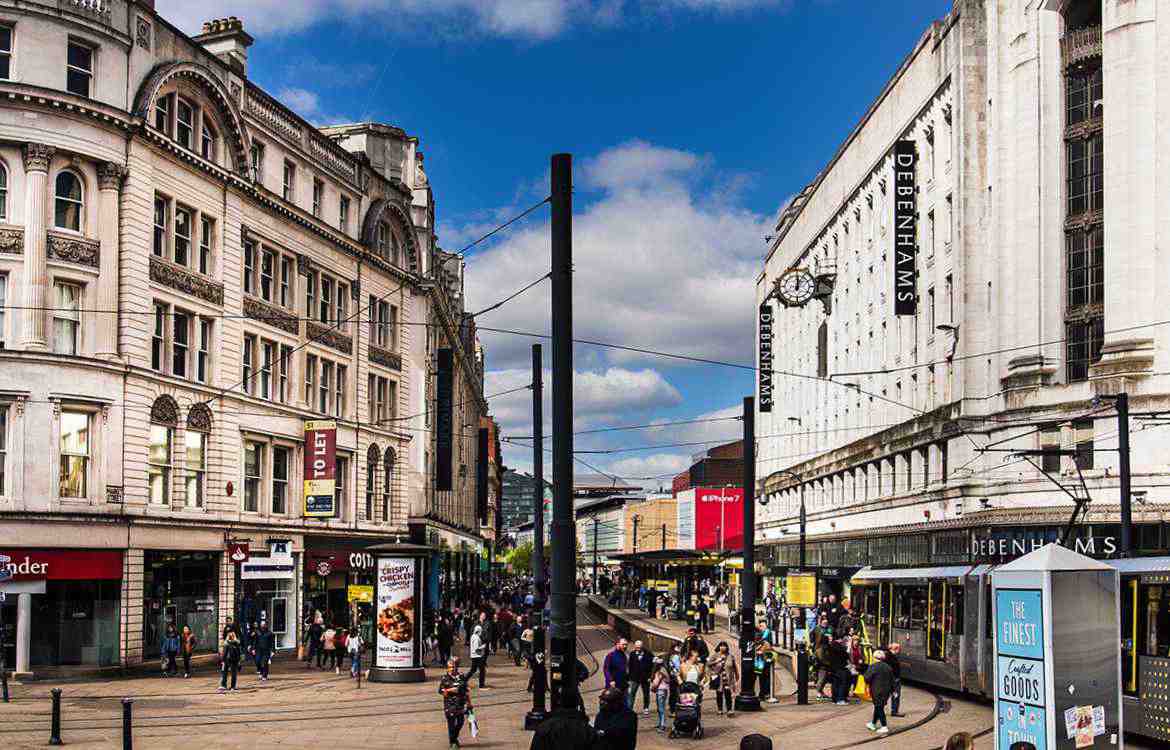 The heart of the city's shopping district since medieval days, Market Street has regenerated since the 1960s to become a thriving commercial centre where many of retail's biggest names have set up shop.
The Arndale Centre, planned in the 1940s, finally opened its doors in the 1970s, and now attracts 41 million shoppers every year. It stands on the former site of Henry's, which was a popular discount department store. In fact, Market Street has seen many department stores open and close their doors. Lewis's opened in 1877 and was popular with shoppers up until it started to struggle in the late 1990s and shut up shop in 2002. The building is now home to a branch of Primark. Paulden's was another successful department store in the 60s but was taken over by Debenhams. C&A and BHS are two more of Market Street's high-profile closures.
Shop insurance that stands the test of time
Whether your shop is brand new or a high street stalwart, we've got you covered with our shop insurance for retailers.
There's no need to shop around – it's insurance you can tailor to your store's needs. What's more, you'll benefit from a 10% discount for buying online. It's the protection you'd expect from AXA – for less.
Public liability cover as standard, with up to £5m protection
Free 30% increase in stock cover – at dates of your choice – with contents cover
Accidental damage as standard with contents cover
24-hour glass replacement with contents cover
Free 24-hour emergency helpline