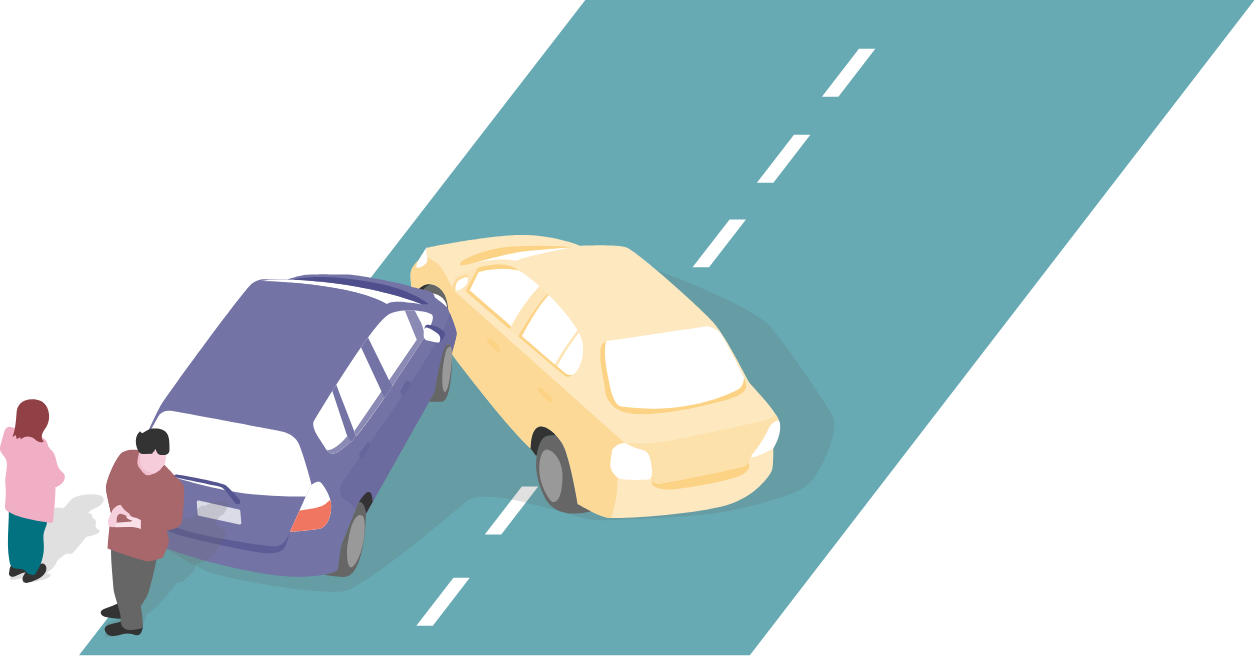 The easy car insurance excess explainer guide
---
Been in an accident and need to make a claim, but don't know the ins and outs of car insurance excess? Follow AXA's easy excess explainer guide.
Chances are you've heard about excess when it comes to your car insurance. But if you've been in an accident, making a claim is stressful enough without having to make sense of your excess too.
To put it simply, your excess is the amount of money you have to pay towards making a claim on your car insurance.
But how does excess work exactly? What's the difference between compulsory and voluntary excess? And how does this all impact on the cost of your insurance?
Read on for AXA's excess explained guide.
How does car insurance excess work?
Alongside the monthly or annual price of all motor insurance policies is the excess – this is the amount you need to pay towards any claims.
As a basic example, if you make a claim for £1000 and your excess is £250, you'll be expected to pay £250 of the costs, while your car insurance provider pays the other £750.
If you're involved in an accident you'll need to pay your excess, even if the accident isn't your fault. In those cases, however, you may be able to recover your excess from the person responsible if you have legal expenses or uninsured loss recovery as part of your policy. Check the terms and condition of your insurance policy for more information.
What's the difference between compulsory and voluntary excess?
There are two main types of excess: compulsory (sometimes referred to as 'mandatory') and voluntary.
The compulsory excess is the amount set by your insurer that you have to pay in the event of a claim. If you're a young or fairly inexperienced driver, or have a very high-value and expensive-to-repair car, you could be asked to pay a higher compulsory excess.
Voluntary excess is a little different. It's the optional amount on top of the compulsory excess that you can choose to pay towards any claims. Choosing to pay a higher voluntary excess could save you money on your car insurance premium, but it means you'll pay more if you have to make a claim.
For voluntary excess, you should always choose a realistic amount that you can afford to pay in the case of a claim.
How much is the usual car insurance excess?
You'll be shown the amount of the excess when you get a car insurance quote and it'll depend on a couple of things such as:
Your age
How long you've been driving for
The age, make and model of the vehicle you're looking to insure
The type of cover you choose – for example, windscreens and glass (which generally attract lower excesses) are not included on third party fire and theft policies
To find out how much car insurance can cost and the levels of excess applied by AXA, get a quote.
Should I increase my voluntary excess?
This depends on whether you want to pay less premium and whether you're able to afford to pay a higher excess if there is a claim
In most cases, choosing a higher voluntary excess will reduce the cost of your insurance premium. So if you have a history of no claims it could be worth considering.
And while choosing to pay a higher voluntary excess could bring down the cost of your premiums, saving you money in the long run if you don't make a claim, it could also make it more costly if the worst happens.
Deciding on whether or not to increase your excess can be something of a gamble, so only make the decision if you can afford to meet the extra cost of paying an increased excess in the event of a claim.
Why is an excess included on my car insurance policy?
This is to discourage drivers from claiming for every little bump and ding and to avoid the increased costs associated with these smaller claims. This in turn helps to reduce the insurer's costs and keeps premiums at an affordable level across the market.
So by including an excess to cover smaller claims like scratches or scrapes, it helps to keep everyone's costs down.
Do I always have to pay the excess?
No, not always.
If you have comprehensive cover with AXA and the driver of the other car involved in the accident is uninsured, you won't have to pay the excess or lose any no claims discount – just as long as you can supply the make, model and vehicle registration number of the other vehicle and we can establish that the accident wasn't your fault.
Although you may have to pay the excess initially while the claim is investigated, this will be refunded once it's established that the accident wasn't your fault.
Who pays the excess if I'm in a car accident?
If you're involved in an accident you'll have to pay the excess yourself, although you can recover this cost in some cases.
If the other driver doesn't have insurance and you have comprehensive cover, AXA's uninsured driver promise will put things right without you having to lose out by paying the excess – it won't affect your no claims discount either. However, you may have to pay your excess and your NCD may be affected until we establish that you were not to blame for the accident.
It's important to note that making any claim could mean that insurance companies consider you to be a higher risk in future, and you may face a higher compulsory excess when it comes time to renew your policy.
At AXA, we want to make your journey as smooth as possible. And even if the worst happens and you get into an accident with another car, we're working to make our claims process as simple as possible to help give you peace of mind – and get back on the road – as quickly as possible.
If you do need to make a claim, follows these easy claims tips or download our accident guide to make the process as simple as it can be.