As we are fast approaching the UK Government's target to deploy autonomous vehicles on our roads by 2021, it's no surprise that organisations, companies and Innovate UK projects are hitting the accelerator to trial their technology as quickly as possible.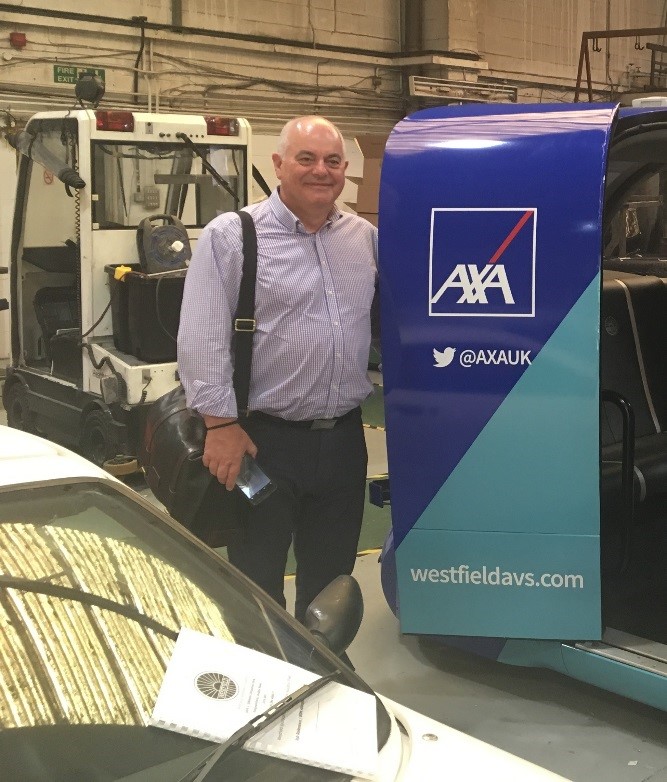 I know speed is needed to ensure the UK remains at the forefront of this technology and can reap the societal benefits as soon as possible but organisations running these trials must balance commercial interest against the need for the highest safety standards. Coming from an insurer, you'd expect my focus to be on safety, but it is also vital to creating consumer trust in CAV technology.
So how does a trial operator or project ensure high safety standards are being met? The key is to have a robust safety case – a document produced by a trial operator which identifies all relevant risks and hazards, how they will be mitigated and any controls that will be applied. A strong safety case protects every person and vehicle in the trial environment and builds trial operator expertise to deliver effective and safe trials, which will ultimately lead to safer vehicles on UK roads.
There are helpful government guidelines out there to aid trial operators and manufactures in putting together a high standard safety case, such as the 'Code of Practice: Automated vehicle trialling' (February 2019) but there is currently…and perhaps surprisingly…no legislation in place to ensure the highest safety standards are met.
Over the summer, as the Capri project has been gearing up for trials, I've seen first-hand how much work goes into preparing for testing and creating a safety case for this type of trial. I thought it might be helpful to share some of the tips I've discussed with the Capri team, which build on government's existing guidance, so organisations can ensure their safety cases meet the highest standards. So here are my top six points to remember when you are conducting your TRIALS.
1.
T

raining

CAV trials have two key safety roles that both require specialist training: Stewards who perform the role of a safety driver and Marshals, who provide correct instruction to passengers and the general public. Stewards must hold a valid UK driving licence and have specialist training to operate the vehicle in all anticipated circumstances including manual and autonomous operations. Stewards are the 'first response' to any incident or emergency and they must always prioritise passenger and pedestrian safety. Marshals, who must also undertake a shorter training course, are responsible for monitoring a CAV by roaming on foot or bicycle over longer distances and will provide key information to stewards, pedestrians and other relevant stakeholders.
2.
R

isk assessment

Trial operators must carry out a thorough risk assessment – and there are a number of potential hazards for CAV trials. Whilst it's crucial to identify risks e.g. pedestrians or cyclists in the trial environment, in the safety case you must also detail the measures to mitigate the risk e.g. marshals on the day of the trial and prior communication of the trial taking place.
3.
I

ndependent review

Commercial interest must be balanced during the safety case process, and the only way this can be fully achieved, is to involve an independent party to review the safety case who can ensure there is full compliance with guidelines and that no corners have been cut. Without independent review, there is a clear conflict of interest putting at risk the safety of those involved in the trial and the standard of safety of the technology long term.
4.
A

ppropriate cover

Trialling any CAV technology must be compliant with UK laws, therefore appropriate insurance cover is required for both the activity and the environment the vehicle will be used in. The information provided in the safety case gives insurers the ability to create a realistic valuation of risk and allows insurers to understand that appropriate mitigation measures have been taken. Policyholders and trial operators must also be aware of their general duties to take 'reasonable precautions' to prevent injury, loss or damage resulting from a CAV trial.
5.
L

iaise

No CAV operates in a vacuum – they will be part of a much wider ecosystem. Whilst this might not be the case for a trial environment, there are still a huge number of stakeholders to liaise with to ensure high safety standards such as land/site owners, other road users, manufacturers, public authorities and insurers. Trial organisations should maintain a high level of engagement throughout the trial activity including through the publication of the safety case. Continuous and transparent communication can help to educate and inform road users whilst instilling trust in public CAV trials.
6.
S

tandards

Manufacturers should always aim to maximise the functionality of the vehicle and ensure it can be evidenced that the technical components meet high standards. Ensuring vehicle functionality must be a strategic process in which the vehicle operates effectively when tested against the original design. Verification and validation activities, gathering real-world evidence and identifying safety requirements are all vital elements of this process, as ways to evidence that the vehicle can meet the sufficient standards in the defined operating environment.

I think collaboration and best practice sharing is a great starting point to assist trial operators. For those currently involved in CAV projects or running trials, I hope these tips ensure your safety case is of the highest standard.