As an insurance company our role in society goes beyond simply providing financial support for our customers.
We strive to help people lead better lives, whether that means protecting their property or – more importantly – helping them stay happy and healthy.
With the 2018 AXA Stress Index revealing that 72% of Brits feel stressed at least some of the time during a typical week, our work in this area has never felt more important.
The Index, which asks people what makes them feel stressed and what they do to alleviate it, found that Brits are stressed about their everyday lives, with work, health and their children among their main worries.
Yet, despite concerns about health, many still turn to relatively unhealthy pursuits to relax. Listening to music was the most common way to relieve stress, with 37% playing their favourite songs to unwind and a third watching TV.
And while some favour exercise (24%) and gardening (17%) others comfort eat (20%), drink alcohol (18%) and smoke (8%) to relieve stress.
72%
of people feel stressed at least some of the time
Males reporting to feel stressed
66%
Females reporting to feel stressed
78%
However, perhaps more worrying is the impact of stress has on health. According to the Index, 42% feel anxious because of stress, while 38% feel tense and 30% say it caused restlessness. In addition, 27% said that stress was causing a lack of sleep and just over a quarter (26%) revealed that stress was causing a lack of interest in everyday activities.
As well as personal concerns, this year's study paints a picture of a nation worried about much broader issues.
A third are stressed about Britain leaving the European Union while 60% are concerned about war and terrorism – no doubt a response to recent events in London and Manchester.
Meanwhile, brought on by the increasing adoption of automation, more than one in five Brits are concerned about robots or artificial intelligence taking their jobs.
"This research shows that Britain is struggling to manage its levels of stress. Although people are worried about their jobs, family and their health, factors such as Brexit and terrorism are also causing sleepless nights.

"What is promising is that almost a quarter of respondents are turning to healthy ways to manage stress by taking time to exercise, which a better option than comfort eating, drinking or smoking."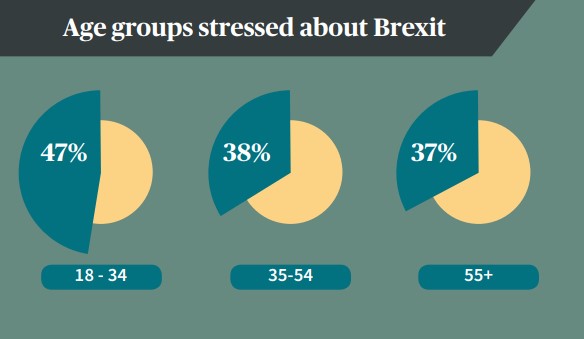 Age groups stressed about Brexit
People agred between 18 to 34: 47%
People aged between 35 and 54: 38%
People agred 55 and above: 37%
1. Stay fit and healthy
Exercise releases endorphins that make us feel good. Find an exercise that you enjoy, and try to do it at least once a week.
2. Stay connected
Maintain your connections with family, friends and work colleagues. We are social and being with others helps us retain a sense of belonging.
3. Eat well, drink less
Good nutrition is important for our body to function. Try and maintain a balanced diet without comfort eating. Meanwhile, alcohol, while a short-term stress relief is not a long-term solution.
4. Live to laugh
Laughter is good for us. Watch a comedy and keep things around you that make you smile. Spend time with others and have fun.
5. Try to maintain a sensible work-life balance
Try to balance your time between work and home, allowing time for family, friends and exercise. Work to live not live to work.
At AXA, we want to help everyone lead healthier, happier lives. And that's something we can't stress enough.
If you want to see how we've shaped up as a nation since last year – you can view our Stress Index 2017.
Learn how smiling could help reduce stress in this ground breaking research study supported by the AXA Research Fund.
1 Research for the AXA Stress Index 2017 study was carried out by One Poll. 4,000 UK adults were surveyed between 28th July and 8th August 2017.