If you're currently in the industry and are looking to branch out by starting your own salon, take a look at our guide for starting a hairdressing business. Plus, we chat with AXA customer and professional hairdresser, Abigail Butler to give you some top tips from an industry professional.
Why open your own salon?
It can be a lot of fun to become your own boss and call the shots. You'll have full control of the business and get the biggest benefit of the profits that you reap. Here's two of the main reasons people like to start their own salons:
More flexibility
As your own boss, you have total freedom. Launching a beauty salon at home could give you more flexibility than salon owners – if you want to take Friday afternoon off you can, without worrying about closing up shop.
You set the working culture
Owning your own business means being able to set yourself apart from your competition by putting your own stamp on things. From the service and working environment you provide to the décor, you call the shots when it comes to creating the vibe and working environment of your salon. Do it well and word of mouth could work wonders. And if you're taking over an established beauty salon, you can enjoy the benefits of providing a bigger and better service to an existing base of loyal customers.
Abigail's Take: "I believe we should have a balanced life between our work and our personal lives. I want people to live their best lives. We need a better quality of life. And being your own boss means you can set that culture and you can push people, help them grow and develop."
What does a hairdresser do?
The duties of a hairdresser are quite varied and include a lot of physical capabilities as well as interpersonal and organisational skills.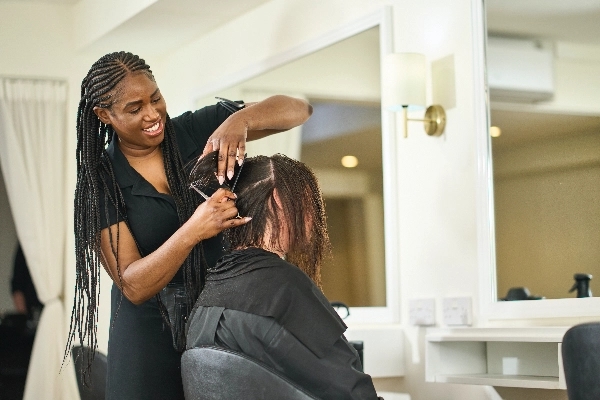 Physical skills:
Wash/shampoo and condition hair
Cut and style hair
Colouring hair
Perm or straightening
Apply extensions and weaves
Shave and trim facial hair
Ability to be on your feet for hours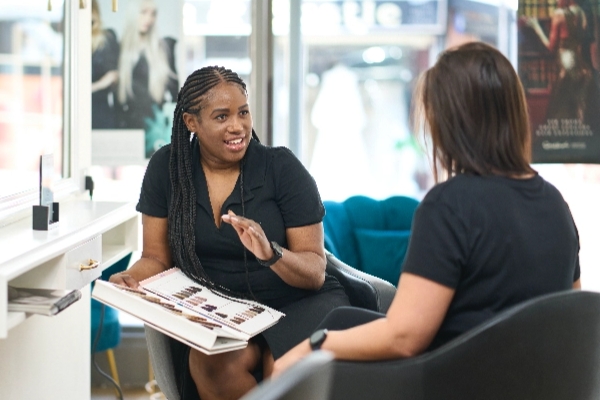 Interpersonal skills:
Greet clients
Advise on styles and perform consultations
Upsell products and advise clients on what to use
Customer service and managing customer complaints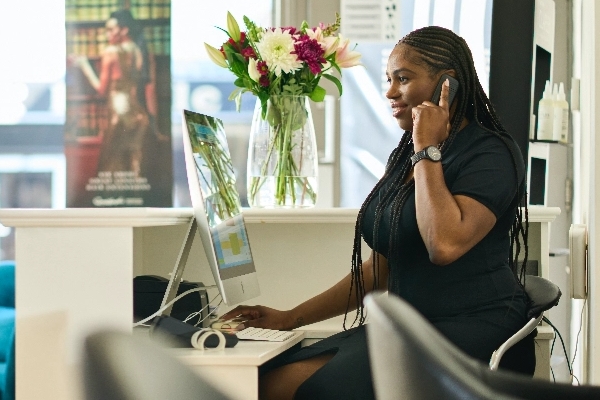 Organisational skills:
Manage bookings and payments
Clean, disinfect and tidy store
Stay up to date on hairdressing trends and products
Order and organise product inventory
Business management and marketing
Time management and keeping appointments on schedule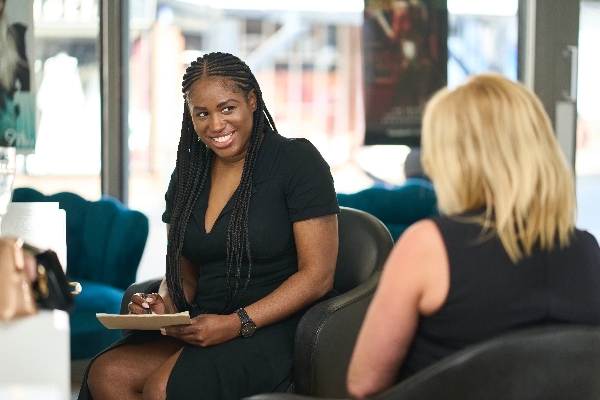 Knowledge:
Understand how to use chemical products safely
Advise on minor hair/scalp issues
Carry out allergy tests with certain products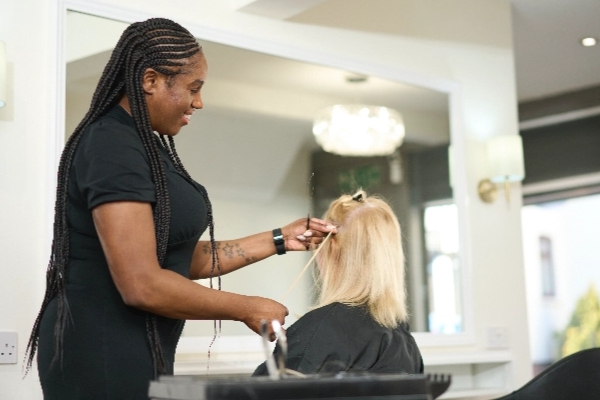 Creative skills:
Have an eye for detail
Be able to mix colours
Abigail's Take: "As a hairdresser you naturally want to make someone feel good and look their best. You love to talk to people, it's a very customer-focused job. So, I remember everything about my clients. Hairdressers are a caring people, so it comes quite naturally."
What are the different types of hairdresser?

While we're focusing on hairdressing salons in this guide, it's important to recognise that hairdressing could just be one kind of service offered in your salon. If you want to offer a wider range of beauty services, that's an option that could expand your customer base – but may also increase the startup costs due to more equipment being needed.
Think about whether you want to purely focus on hair or possibly add in spa treatments, massages, nail work, facials, tanning services, make-up and more. Even if you're just sticking to hair, there's a few questions you'll want to ask yourself:
What kind of hair salon do I want?
You could have a high-street salon, a mobile hairdressing business or you could open a salon in your own home. Each salon type has its pros and cons, so consider carefully which one is best for you.
What kind of customer do I want?
Men's health and beauty is a growing industry and barbers are increasingly important. If you want to attract men as well as women, you'll need to tailor your offerings and marketing tactics accordingly. If you'd prefer to stick to women's hairdressing only, that's fine as well. Just make sure your branding and design reflect the audience you plan to attract.
How do I want to make money?
Are you the only hairdresser or will you hire other people as well? Will you rent space to other hairdressers within your salon? Figure out your money making model so that you have a clear plan for growth. You may also want to look into opportunities such as retail within your store. If a customer likes the product you use on their hair, you can make more money by selling some beauty products at your reception.
How much startup capital do I have?
This can have a big impact on some of your choices. Retail of beauty products involves investing in stock up front. Offering services above and beyond hairdressing means additional investment in equipment. Opening a physical store means redecorating and ongoing electricity costs, whereas a mobile store means continuous petrol costs. Factor in the different costs when deciding what business model and services you're planning to offer.
Startup costs and equipment
The costs of opening a salon can vary greatly depending on the type of salon you open up, but if you're hoping for a high street salon, be prepared to spend upwards of £30,000 to renovate it. If you're going for a much simpler set up, The Guardian estimates that the most basic investment would need to be at least £3,000 but these costs can grow to be in the tens of thousands quite quickly depending on the size of your space.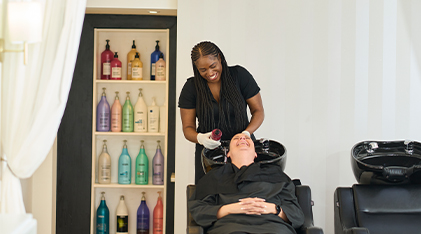 As a starting point, there are a few essential costs to consider:
A reception desk
Comfortable styling chairs and mirrors Hair washing sinks
Seating for the waiting area
Trollies for transporting tools and products
Essential tools like scissors, clippers, combs, brushes, hairdryers, straighteners and curling tongs
Dye application brushes, foils and mixing bowls
Gowns for clients
Towels Protective gloves and aprons
Shampoo, conditioner, hair dyes and styling products
A laptop/computer and phone
Equipment for taking payment
Renting/leasing your premises
Furnishing your salon or spa (if necessary)
Purchasing/renting equipment, tools and products
Paying your staff's salaries
Funding your beauty salon or spa
The UK government has startup loans that range between £500 and £25,000 which you can apply for to help offset the costs of starting your salon. The government loans also offer free support and mentoring, as well as guidance to help write your business plan. Find out more at GOV.UK.
What qualifications can you get?
You should make sure you've got the right industry-accredited qualifications and licensing regulations under your belt before setting up your beauty salon or mobile beauty business – not only to help bolster your business' professional reputation but to reassure your customers that their good looks are in good hands. We've listed some routes below that you can take to on your path to becoming a qualified beauty therapist.
In order to become a fully qualified beauty therapist, you need to complete an NVQ Level 2 and Level 3 in Beauty Therapy, which tend to be taught through colleges on a full-time or part-time basis.
These courses cover everything from beauty techniques and beauty therapy services, to hair services and even beauty salon reception skills. You can also build on the skills and experience you've developed during your studies by working as a trainee junior for a salon. Some salons accept junior trainees who've finished their Level 2 NVQ and are studying towards their Level 3 NVQ Diploma, whereas others only accept qualified therapists trained at Level 3.
If studying at college doesn't suit you, you can train privately at a beauty school. They tend to provide courses that are quicker to complete but they can be pricier than those available at college. And if you do choose to study beauty privately, try to pick a course that gives you qualifications that are accredited by CIBTAC (Confederation of International Beauty Therapy & Cosmetology) and CIDESCO (Comité International d'Esthétique et de Cosmétologie).
Apprenticeships are another great way of breaking in to the beauty industry. Beauty apprenticeship schemes are run by the Government and are a great way for aspiring beauticians to gain on-the-job experience while studying.
Abigail's Take: "When I first started, I knew how to do weaves and wigs because it's in my culture, but I built on that and went on training and courses to learn different methods and to get more qualified professionally. I definitely think it helps to have that qualification behind me. When your skills have been assessed professionally it gives you a more well-rounded skillset."
Laws and regulations to be aware of
It's a good idea to get in touch with your local council when setting up shop to find out what licenses your salon needs to have in place before opening its doors. Here's a few different laws or regulations to keep on top of when starting your business:
Salon and beauty therapist licences
Some local authorities require salons – and individual beauty therapists – to have licences in place before they can carry out procedures. That's why it's important to ensure the necessary training and qualifications are in place before providing treatments, especially as operating without them can invalidate your insurance.
Media rights
Did you know that you're infringing copyright if you play live or recorded music in public without a licence? If you want to play music or TV programmes to help your customers relax whilst you're working your magic, you'll need to have the correct licenses in place before doing so. In order to play music in your salon you'll need a licence from PPL PRS. If you want to entertain customers with their favourite shows and movies, you'll need to get a TV licence for business in order to do so legally.
Health and safety
In order to be compliant with health and safety regulations, arrange regular health and safety checks to make sure that all of the equipment and tools you use for your beauty business work are safe, hygienic, and in good working order. And if your business or salon uses potentially hazardous materials, make sure you're up to code with the rules and regulations on using and disposing of them safely.
Other considerations
If you're planning to put a sign on the pavement outside your shop, you may need permission. If you offer certain types of treatment such as massages, manicures and pedicures, you may need a specific licence. The amount of regulation you are subject to will vary depending on your set up and offerings, so make a clear plan and check the regulations for each part of it. When in doubt, checking the Gov.uk license finder is always a great shout for ensuring you have all the right paperwork in place.
Choosing a business name and location
Naming your hairdressing business
If you're struggling to come up with a name for your business, try writing down everything that comes to mind – don't rule anything out at the start. Think about words associated with your own name, the location of your business, the types of services you offer, or the feeling you want customers to walk away with.
Once you have a bunch of words or ideas written down, try combining them in different ways to see if there's something that feels right. Just remember, you want it to be easy to pronounce and spell so that it's memorable for future clients. Though it's not a deciding factor, you can also consider that names which begin with one of the first letters on the alphabet may show up earlier in any directories that sort alphabetically.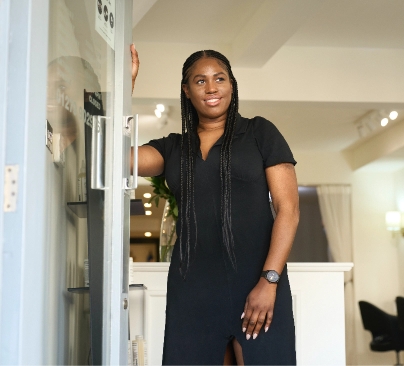 Once you've narrowed down the potential name to a few top contenders, there's three major steps you need to take:
Ensure it is available as a company name on the Companies House register
Ensure it is available as a website domain name – you can use almost any hosting site for this
Ensure it is available on social media channels as a handle
So, before you fall in love with a name and start making a logo and branding around it, make sure it's actually an option for you.
Location
If you're opening a high street salon, the location can have a huge impact on your success, so choose carefully. Make a list of all the qualities you're looking for in a premises and then rank them from your top priority to your lowest priority – this will help you evaluate each location you look at against your most important criteria.
Here's a few things that might make it onto your list of qualities to evaluate:
Parking space nearby
Size of the premises
Competition in the surrounding area
Proximity to shops and cafes
Potential for footfall
Population in the nearby area
Nearby transport links
Clientele in the surrounding area
How much could I earn?
Your potential for earning will vary depending on your qualifications and experience level. If you're starting out as an apprentice hairdresser to gain experience before opening your own business, you'll be entitled to the national minimum wage for apprentices.
According to the National Career Services: once you've completed an NVQ Level 2 Qualification, you're likely to earn between £9,000 and £16,000 per year. If you get NVQ Level 3 Qualified, you have potential earnings closer to £30,000.
Abigail's Take: "Charge your worth. Believe in what you're doing, know the service you provide and charge what you believe is right. It's a shame because in this industry, people are closing because we can be so eager to please and so nice to our clients that we're selling ourselves short and not charging what we should be."
Marketing your hairdressing business
Even after forking out start-up costs, you'll have to work hard to build up a loyal customer base to help bring in the money. Here's a few of the basic steps you should take to market your business and start finding your first customer:
Get online
Making a website doesn't have to be too difficult – there's loads of websites that have templates you can use to get a good-looking website up and running quickly. Having a professional website will help give your business more legitimacy, as will building an online presence on social media platforms. At the very least, pretty much every business should consider having a Facebook page, and for hairdressers an Instagram account also makes sense so you can showcase your work.
Aside from that, building up an email newsletter list is another great way to retain customers. For hairdressers, a newsletter may include information on any products you're selling in store, your availability in the upcoming week or any seasonal changes to hours. It's a quick an easy way to keep your customers up to date with what's going on in your salon.
Build reward schemes
Referral discounts are a great way to help build your customer base while loyalty cards can help you retain your customer base. In general, reward schemes are a great way to say thank you to the customers that keep coming back and talk about your business to other people. Just make sure that whatever kind of discount or reward you're offering is sustainable for your business and that you won't be ending up out of pocket from any promotions that you run.
Join local listings
Find out how to get listed in any local directories and make sure that your business is listed in them. Doing this offline and online is an easy way to help you get discovered. One of the most important local listings you can get set up is your Google My Business account which will help you appear higher in local searches (ones that include words like 'near me'). Given that most customers use Google to discover business nowadays, getting your name in front of people looking to use your services soon is a great move.
Build your reviews
The vast majority of customers will look at reviews before buying or using a service, so making sure that you have reviews on a third-party site will help convince potential clients to choose your salon. Looking into the different review sites your business could be listed on is a quick way to make your salon seem more legitimate to customers considering taking their business to you.
How to hire employees for your hair salon?

Bringing a new employee into the business can provide you with new skills and time needed to move your business forward. However, if can also be quite a daunting task if you have no previous HR or management experience. Here's a quick look at the steps you might take when hiring your first employee:
Check your budget
This goes without saying, but you need to have enough regular income to cover the salary of your new employee. If you're not confident that you can do that, you may want to consider other ways of getting additional people into your salon such as renting out a chair to other hairdressers rather than employing them directly. If you do take on an employee, remember that their salary must at least be in line with the National Minimum Wage.
Think about the role you want filled
Are you looking for someone to deal with hair and just add another chair to your salon or are you looking for someone to bring a completely new skill into your offerings such as a masseuse or nail technician? Consider which might help you bring more money into the business or take a look at what services your competitors offer and where you might be able to find a gap in the market.
Have a think about the level of experience or qualifications you want your new hire to have as well. You may have to pay more for someone with more experience, but they may also bring loyal customers with them from previous roles.
Advertise the role & prepare for interviews
You'll need to get the word out there that you're looking for some new staff. You could promote this through job centres, social media (LinkedIn, Facebook, and Instagram all being good choices), and even local newspapers. Once word gets out that you're looking for a new hire, you'll have to start scheduling interviews. Think about what kind of questions you'd like to ask and how you'll determine of an interviewee is the right fit for your business needs.
Get employer's liability insurance
Employers' liability insurance protects your employees if they get injured or become ill as a result of working for your business. It covers the damages, compensation costs and legal fees that a current or ex-employee could be entitled to if they're injured or suffer from an illness that was caused by working for your business. You are required to have employers' liability insurance as soon as you become an employer.
Register with HMRC
Once you've found the right employee for you, you'll need to officially become an employer. Tell HM Revenue and Customs (HMRC) by registering as an employer - you can do this up to four weeks before you pay your new staff.
The legal stuff
You'll also have to properly vet that new employee and make sure everything is above board. That might include making sure that they have the legal right to work in the UK and whether or not they have the required qualifications for this role.
Check if you need to automatically enrol your staff into a workplace pension scheme and give them a written statement of employment that includes details of the job, terms, and conditions. You'll need this for anyone that you're employing for more than 1 month.
Abigail's Take: "It can be hard to find staff and to retain them. I tend to look for apprentices because I like having younger people come in and you get to mould them and teach them from the ground up."
Insurance for your beauty business
When you're busy pampering your clients, accidents can happen no matter how careful you are. That's why it's important to ensure that your business insurance covers all the treatments and services your business provides.
AXA's business insurance can help protect your beauty salon. With a range of covers available spanning public liability insurance, contents cover, professional indemnity insurance, employers' liability insurance, and, for the mobile hairdressers, van insurance, you can tailor the protection you need to meet the demands of your business.
If you're starting an in-home salon, you may also want to purchase contents insurance to cover your hairdressing equipment, as most home insurance policies won't cover business equipment or property.
Ready to become a hairdresser?
Starting your own business is something worth protecting. Get started today with AXA's business insurance for gardeners and landscapers.
All links are checked and valid at time of publishing, 16 June 2022.