How to buy a house: a step‑by‑step guide for first‑time home buyers & mortgages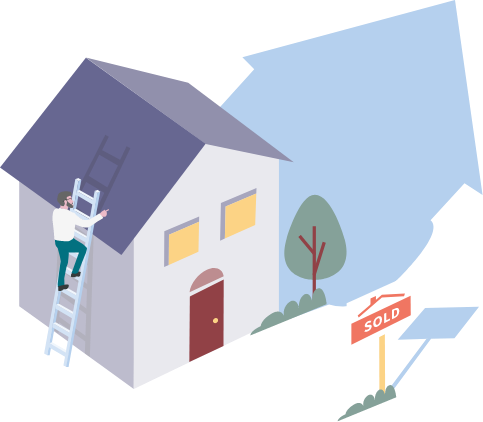 We've all got big dreams of bagging that perfect 10-bedroom penthouse with pool.
But when it comes to buying your first home, it's important to follow your head (not your heart) so you're not left overstretched and out of pocket.
Taking that first step on the property ladder is exciting. But small mistakes in the process can have huge repercussions, making it all too easy to get tangled up in red tape and legal knots. And with first-time buyers making up 51% of the market, securing that ideal first home is more competitive than ever.
To help get ahead of the house-hunting pack, read AXA's 10-step-guide to landing your first home – from sorting out your finances to picking up the keys to your swish new pad. Plus, we chat to estate agent, Gurdeep Singh, who shares his top tips on how to take the hassle out of home hunting.
Step 1: Get your finances in order
Work out how much you can afford
Before you pin your hopes on that mansion you've always dreamed of, work out how much you can afford to put down as a deposit. That way you'll be able to figure out how much you need to borrow for a mortgage.
Start by factoring in all the costs that come part and parcel with buying a home and totalling them up to get the final price tag of your prospective property. Extra costs to factor in include:
Mortgage arrangement fee

– Total costs can vary, but £1000 tends to be a typical price tag

Valuation fee

– Costs vary depending on the lender and purchase price, but it tends to come in at £300

Property survey

– An average survey costs between £400 and £700

Conveyancing costs

– Anything between £500-£8000, depending on the property price

Stamp duty

– This is a land tax that depends on the value of a house. As a first-time buyer, you don't pay stamp duty on the first £300,000 if your home costs up to £500,000. And if you're buying a property worth up to £500,000, you'll pay 5% on the difference between £300,000 and the property price.

Removal costs

– Local removal companies usually start at £100 but this figure can easily rise depending on quantity or distance
Start budgeting like a boss
Once you've settled the above sums, you need to work out how much you can afford to save each month towards your home.
Creating a spreadsheet detailing your regular outgoings, including household bills, food shopping, travel costs and extra expenses like home repairs or MOTs. By taking these outgoings away from your monthly income, you'll get a clearer picture of how much you're able to save.
Having a budget will make it easier to spot where you can tighten your belt, helping you to become thriftier and build up that house fund quicker. Plus, being savvier with your spending could benefit your mortgage application, since lenders will be able to see that you're being smart with your money.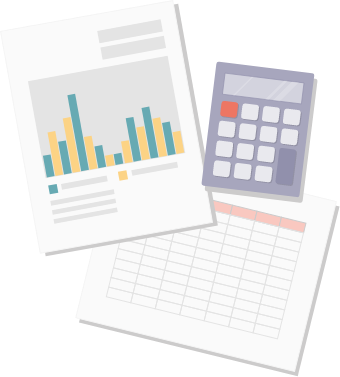 To stay motivated, why not treat money-saving as a challenge? Keep revising your budget and look for areas where you can scrimp a little more.
"
Gurdeep's tip
"If you've got your heart set on a place that's out of your price range, I'd say rethink. As a first-time buyer you need to buy with your head. You're probably not going stay in your first home forever, you'll move up the ladder, so try not to let emotions affect your critical eye. Logical people work off of numbers. If you understand the numbers, you know what you can afford to pay on an ongoing basis."
Step 2: The deposit
How much do I need to save for a deposit?
Saving up a deposit can seem like a scary prospect. But with a well-organised budgeting strategy it becomes much easier to pinch the pennies.
Typically, deposits can range from 5% to 20% of a property's full price. As a rule of thumb, the bigger the deposit, the cheaper the mortgage deals you're likely to get because you present less of a risk to a lender. Plus, a higher deposit also means lower monthly repayments and a lower risk of negative equity if the market ever caused your property's value to drop.
Deposit saving schemes
There are plenty of options that help make building up a deposit that little bit easier.
Help to Buy: ISA
By putting your money into a Help to Buy: ISA, the Government will boost your savings by 25%.
In your first month of saving, you can deposit a lump sum of up to £1200 and afterwards you can deposit a maximum of £200 per month. The minimum bonus you can you can receive is £400 – meaning you'd need to have saved £1600 – and the maximum is capped at £3000 – meaning you'll need to have saved £12,000.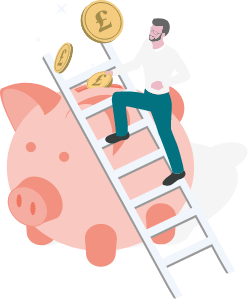 Help to Buy: ISAs closed on 30 November 2019 and are no longer available to new savers. If you opened you Help to Buy ISA before this date, you can keep saving into your account. You could receive a combined government bonus of up to £6000 if buying with your partner. Just make sure that you claim your bonus by 1 December 2030 at the very latest.
Once you're close to buying your first home you'll need to let your solicitor or conveyancer know and they'll apply for your government bonus, which will be added to the money you're putting towards your first home. Bear in mind that this bonus can't be used for the deposit due at exchange of contracts or to cover solicitor or estate agent fees.
Lifetime ISA
An alternative to a government-backed savings schemes is a Lifetime ISA. Available to people aged 18-39, Lifetime ISAs let save up to £4000 each tax year, which the government will add a 25% bonus on. If you withdraw your money for any other reason than buying a house or retiring over 60, you'll face a 25% penalty.
"
Gurdeep's tip
"Have a budget that illustrates your cash flow. This will help you see where you're wasting money that could be saved into a pot towards your first property. If you're in debt or have bad credit, use this to pay it down to improve your credit score. When you're applying for a mortgage you can take your budget to the bank as evidence that you manage your money well."
Step 3: Look for a mortgage
You've crunched the numbers and you're well on your way to hitting your deposit target. Now it's time to start hunting for a mortgage.
How do mortgages work?
A mortgage is a loan taken out to a buy property, which the lender charges you interest on until the final amount is repaid. Mortgages come in two basic forms: repayment and interest-only.
Repayment mortgage
A repayment mortgage is where you pay the mortgage and interest incurred in monthly instalments to clear off the amount you borrowed bit by bit until you own the house outright.
Interest-only mortgage
With interest-only mortgages, payments only cover the interest and not the amount you borrow. You pay a second monthly instalment into an investment fund with the idea being that after the mortgage term has ended, the money in this fund clears the remaining debt. If the fund is worth more than the total price of your home, you get to keep the difference. But if it underperforms, you have to make up the shortfall.
What is loan-to-value?
During your search, it's likely that you'll come across the phrase 'loan to value' (LTV). In jargon-free terms, this is the percentage of your home's value that'll be covered by the mortgage you applied for.
So, if you're buying a house worth £100,000 and you put down a 20% deposit (£20,000), a lender will offer you a mortgage to cover the other 80% of your property's value (£80,000). This means that your property's loan to value would be 80%.
The higher the LTV, the more expensive the mortgage will be. Here's some other factors that can impact the overall cost of your mortgage and monthly repayments.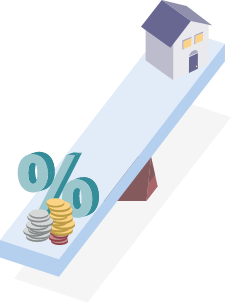 The higher the LTV, the more expensive the mortgage will be. Here's some other factors that can impact the overall cost of your mortgage and monthly repayments.
Mortgage length

– Mortgages usually last 25 years but longer and shorter terms are available. The longer they are, the higher interest they tend to have.

Interest rate

– A favourable interest rate depends on the size of your deposit and the strength of your credit rating.

Deposit

– The bigger your deposit, the likelier you are to get better rates, so it could be worth saving up that bit longer to get more money in the pot.
Mortgage types
Once you've chosen how to pay back the debt and interest, you need to choose a mortgage type:
Fixed rate

– Repayments will remain the same for a specified period of time – usually between two and five years – no matter how interest rates are behaving in the larger market.

Standard Variable Rate (SVR)

– The rate rises and falls according to the Bank of England base rate.

Capped rate

– This rate won't go above a certain rate for a specified period between two and five years. After this it will revert to a Standard Variable Rate.

Discount rate

– The mortgage lender gives a discount to their Standard Variable Rate for a specific period of time.
Where can I get a mortgage?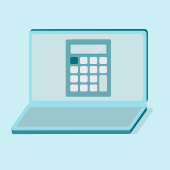 Check online mortgage calculators
With such a variety of products available, it can be difficult to know where to begin. A good place to start is to check online mortgage calculators to get a rough idea of the amount you could borrow. As a rule of thumb, you can expect to borrow roughly four times as much as your total annual income.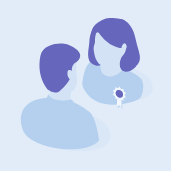 Talk to mortgage advisers
Next, it's time to set up meetings with mortgage advisers. Mortgage advisers weigh up your income and outgoings and complete all of the necessary mortgage paperwork on your behalf to help speed up your application.
Speaking of paperwork, make sure you bring along the following documents when you go to meet them:
Proof of ID, such as a passport or driving licence
Proof of current address
Three months' worth of your most recent payslips
Your latest P60
Information on credit commitments, including credit cards, personal and student loans and overdrafts
Some mortgage advisers are tied to certain lenders – some provide deals from specific lenders, while others check what's available in the whole market. That's why you should speak to few independent mortgage advisers so that you're crystal clear on the options available to you.
Head to sites like Cherryfind, VouchedFor and Unbiased to search for independent mortgage advisers.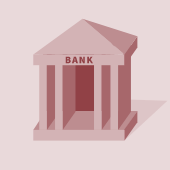 Speak to your bank's mortgage advisers
Talking to your bank's mortgage advisers is a good idea because not only is their advice free, they already know the ins and outs of your finances. Remember: they'll only tell you about the products their business can offer, so make sure to see how their products stack up against the competition.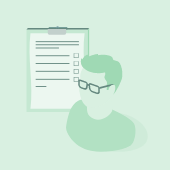 Going it alone
You're well within your rights to swerve mortgage advisers in favour of going it alone. This is known as an "execution-only" mortgage application. However, getting professional advice gives you more protection because if the mortgage they recommended turns out to be unsuitable, you'll have more rights to complain.
Mortgages for first-time buyers
Don't despair if saving for a hefty deposit is proving to be a struggle – there are government schemes out there designed specifically for first-time buyers.
Help to Buy
The Help to Buy scheme provides first-time buyers in England with two main options to secure a mortgage with a 5% deposit:
Equity Loan
With a Help to Buy: Equity Loan, the Government lends you up to 20% of the cost of your newly built home, meaning you'll need a 5% cash deposit and a 75% mortgage to make up the remaining amount. You're not charged loan fees on the 20% loan for the first five years of owning your home.
For example, if your home sells for £100,000, you'd get £80,000 (75% from your mortgage plus a 5% cash deposit) and you'd pay back £20,000 on the government loan (20%).
For more information, read the Help to Buy buyers' guide.
Shared Ownership
If you can't afford the mortgage on 100% of a home, the Government's Help to Buy: Shared Ownership scheme gives you the option to buy a share of your home – between 25% and 75% of the property's value – and pay rent on the remainder. You can also opt to buy a bigger share when you're in a better position financially.
Through the Help to Buy: Shares Ownership scheme you can buy a newly built home or an existing one through housing association resale programmes. You'll need to take out a mortgage to pay for your share of the home's purchase price or fund it through your savings.
To buy through this scheme, contact the Help to Buy agent in the area you want to live.
Although the above options are only available in England, there are similar schemes in place in Wales, Scotland and Northern Ireland designed to help first-time buyers.
Getting an Agreement in Principle
Buying a house is a lengthy process, and the last thing you want is to fall in love with a house only to be delayed by mortgage red tape, leaving another super-organised buyer to snatch it up.
Before you can put in a bid on a property, your mortgage lender needs to give you the green light that they're prepared to lend you money. This is known as an Agreement in Principle, which will give you a clear picture of how much you're able to borrow. This will involve a run-through of your income, outgoings, debt and your deposit value to give you a rough estimate of what a lender is willing to give you.
Having an Agreement in Principle in place can make you more appealing to sellers as it shows that you're serious about buying.
"
Gurdeep's tip
"When it comes to choosing a mortgage, keep an eye out for hidden clauses and additional costs, including exit, missed and late payments. It's a lot to wrap your head around, so have your broker explain everything to you. You need to know what you're getting into, for good and bad, so always read the small print."
Step 4: House hunting
With your budget on track and a mortgage agreement in principle in place, it's time for the house hunt to finally begin. But where do you begin searching for one of the biggest purchases of your life?
A good place to start is deciding on the type of bricks and mortar building you want to buy and the neighbourhood it's in.
As well as window-shopping at estate agents and keeping your eyes peeled for newspaper listings, set up search alerts on property sites like Rightmove, Zoopla, Home.co.uk so that you're among the first to know when must-have properties hit the market.
What to look for when house hunting
Although you won't be able to get the full feel of a house until you view it, there are some steps you can take to help keep your house hunt nice and focused.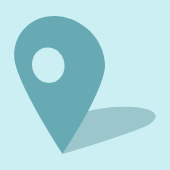 Location
The three most important things to consider when buying a home is location, location, location. So to get insider information on the prices, market and atmosphere of the area you want to buy in, register with local estate agents.
But don't just take their word for it, doing your own research to learn if the area meets your needs is equally important. Are you a new parent? Check to see if your prospective property is in the catchment area of good schools and amenities. Looking for a stress-free morning commute? Test bus and rail links to see if they're reliable.
Why not take a few trips around your prospective part of town at different times of day to get a better feel for it? This will also give you a chance to see what your neighbours are like and how the area changes between day and night.
Do as much homework as you can so that you don't feel short-changed if the reality is a far cry from the domestic bliss you were sold.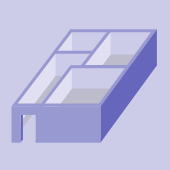 The floorplan
The majority of online listings come with floorplans, meaning you can get the measure of properties beforehand and whittle down your wish list. Try to think how you'll utilise your new home's space and how this will tie in with your current and future lifestyle.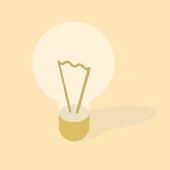 Energy efficiency rating
Even if you've found the perfect property, if it has poor energy efficiency then your wallet could take a serious hit trying to keep on top of bills and running costs. When house hunting, try to find properties that are as energy efficient as possible so that you don't have to fork out too much of your hard-earned money.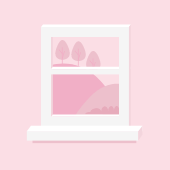 The site
Think about the site your home is situated on. Would you mind your neighbours' windows looking directly into your home or having lots of stairs to climb to reach your front door? If you'd like a nice view, off-street parking, or a large garden that's safe for kids and pets to roam about in, it's worth your while spending that extra bit of time deciding on the type of site you'd like for your home.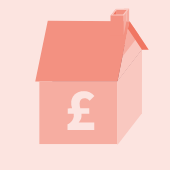 Council tax
Tax bands can vary from house to house, so it's a good idea to find out the council tax band for your potential home using GOV.UK's council tax lookup tool and the Scottish Assessor's website. That way you can get a rough idea of how much you need to fork out each month, giving you a more accurate idea of what you can afford.
By keeping the above tips in mind, you should be able to narrow down your wish list and start preparing to view those you like the look of.
"
Gurdeep's tip
"Although websites like Rightmove and Zoopla are great, make sure that you register with all of the local agents in the area you've got your eye on. Estate agents tend to know about upcoming properties before they go online, so if you're on an agent's list and something matches what you're looking for you could get ahead."
Step 5: Property viewing
So, you've settled on a location and you're ready to view the properties you've spent hours researching. But before you get caught up in the excitement of imagining how your interior design skills will make that must-have property your own, try to curb your enthusiasm by remaining as objective as possible.
Viewing a house is trickier than it seems, so keep these tips in mind when you're perusing your potential new home.
Arrive early
Try to turn up at least 15 minutes before a viewing is set to begin so that you can get a good eyeful of the front and back of a property's exterior if possible. If you arrive bang on time, it's likely that the estate agent will want to rush you through a property's positives and out the door again. Arriving earlier gives you a bit of breathing space to prepare questions you want to ask and areas of concern to look out for.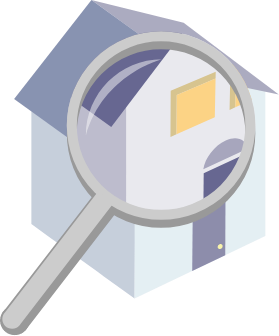 Ask plenty of questions
The more questions you ask when viewing a property, the likelier you are to dig up any house-buying deal breakers. Play detective by asking the following questions when house hunting to get a clear picture of the benefits and problems you could inherit – you never know, the answers could help down the line when it comes to negotiating a final price:
How long has the property been on the market? (If the property has been on the market for a very long time, alarm bells should be ringing)
---
Why is the owner selling?
---
How long has the owner lived in the property?
---
How many people have viewed the property?
---
Have any other offers have been made?
---
What's the minimum price the seller will accept?
---
What do the electrical and gas safety certificates say?
---
What's included in the price? (Some sellers will include furniture and fittings in the total price tag. It's also a good way of checking if outdoor space or outbuildings are shared with neighbours)
---
Are the owners in a chain? (A chain is where someone buys a property with the money made from selling their old home. If a seller experiences any delay in the sale of their property, this could impact your moving plans so it's wise to take this into consideration)
---
Be critical
Keep your eyes peeled for cracks in walls and ceilings and signs of damp, check wiring, electrics and power points, examine plumbing and heating and have a look at the condition of exterior walls, roofing and guttering.
Get snap happy
Once you've got the permission of the estate agent, take photos of problems in the properties you're viewing, such as broken window fixtures or signs of damp on walls and ceilings. Your mind will be working overtime when viewing homes, so taking photos of areas of concern gives you time to mull over them later.
Take someone with you
Two pairs of eyes are better than one, which is why you should try and take someone with you when viewing a property. Not only can they help pinpoint faults that you might not even notice, they can keep you grounded if your imagination starts running away from you.
Go for a second viewing
Fallen head over heels for a home? Then it's time to book another viewing. Try to arrange your visit for a different time of day so that you can get a different take on the property and neighbourhood.
"
Gurdeep's tip
"As well as looking at the general condition of a property's exterior, pay attention to the surrounding neighbourhood too by seeing if nearby properties are well looked after. And when viewing the inside of a home, make sure to check out the condition of the essentials, like the age of a boiler and electrics. You don't want to find out that these are in poor condition when it's too late. If you like a property, arrange a second viewing – you might spot something you missed the first time."
Step 6: Make an offer
Congratulations! Your time spent scrimping, saving and relentlessly researching has finally paid off and you've found your dream home. Now it's time to make that all-important offer that sellers can't refuse.
All you have to do is phone the estate agent, tell them you want the house and let them know what you're willing to pay. If the sellers accept, then you can give yourself a pat on the back as a happy new homeowner. Sounds simple, right? It can be, but there's a certain procedure you need to follow.
Here, we break down the offer stage of the home-buying process so that you know exactly what to expect.
How to make a competitive offer
At this point you'll have a good understanding of the condition of the property, the surrounding area and what price similar properties went for. You can use this to help gauge what you're willing to fork out and if sellers are asking for over the odds.
However, if you find that your must-have property is attracting loads of attention, make sure you know the asking price so that you can make a sensible offer. Whenever you're making an offer, always follow up a phone call with a written offer, which your estate agent can pass on to the seller.
Here's some tactics to consider when putting an offer in on a property.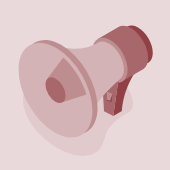 1. Big yourself up…
To give your offer more clout, big up the factors that work in your favour. As a first-time buyer you'll be chain-free – meaning that the selling process can't be held up by you having to sell another property in order to move on. So, if you've got a mortgage in principle, are flexible on move-in dates, or already have a conveyancer and surveyor lined up, make this known.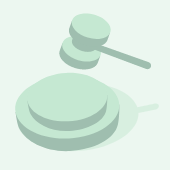 2. But don't overstretch yourself
It's all too easy to think that your must-have property is the be all and end all, but play it cool if you're outbid. Keep the amount you've agreed with your mortgage lender in mind and put in a counter offer. If the price skyrockets it might be better to admit defeat and go back to your property shortlist.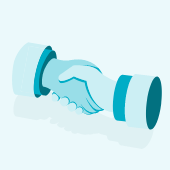 3. Haggle
Feeling confident? Then don't be afraid to haggle. Use the information you've gleaned from your property sleuthing to calculate your offer. If you've noticed any major flaws, see if you can get the price adjusted accordingly. You never know, you could end up with a bargain on your hands.
What to do if your offer is accepted
If your offer is accepted, you'll be sent a written contract with the heading 'Subject to survey and contract' by your estate agent. You might think that hearing the news you've been waiting ages for calls for a celebration, but it's wise to hold off for now. Nothing is concrete, and both parties can still back out from this purchase if they choose to.
However, there's still a few things you can tick off while you're waiting. And with plenty of communication and organisation, you can help minimise hold-ups and prevent the sale from slipping through your fingers.
1. Ask for the property to be taken off the market
To tip the odds more in your favour, ask your estate agent to take the property off the market once your offer has been accepted. Otherwise a bidder with a higher offer can swoop in and gazump you – the term for another buyer stealing the home from your ownership. It's unfair, but totally legal.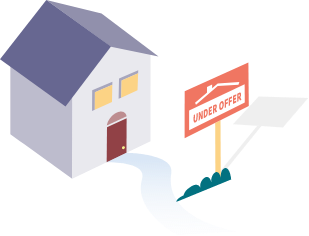 2. Finalise your mortgage
If you've already got a mortgage in principle, formally applying for your mortgage should be relatively speedy. Not got a mortgage in place yet? No sweat. Take a look at Step 3 to get your mortgage in motion.
3. Unlock your Help to Buy: ISA
Now's a good time to let your provider know that you're on the brink of buying your new home. That way they can start the procedures for requesting your government bonus on your Help to Buy: ISA.
Is my offer legally binding at this stage?
In England and Wales, your offer isn't legally binding until you and the seller exchange contracts.
In Scotland, however, things are a little different. If the seller is happy with the offer you've put in to buy your property, you'll receive a letter known as a 'qualified acceptance' from their solicitor. This will inform you that the seller accepts your offer and will list any conditions you need to agree to before the sale is finalised.
A series of letters – called missives – will be sent between the solicitors of each party to negotiate the conditions. When everyone is happy, a concluding missive will be drawn up and, once signed, will be a binding contract between you and the seller.
But before you reach this stage, you need to appoint legal help.
"
Gurdeep's tip
"If you've done your due diligence and the property checks all your boxes, just go in at the price the seller wants. There's no point in trying to haggle if there's other buyers at the table. It's all about gauging the level of interest in the property, which you can pick up on during viewings. If they're only doing block viewings, then there's a lot of interest in the property. This can be a good indication as to what type of offer you should go in with."
Step 7: Conveyancing and surveying
Now that your offer has been accepted and your mortgage is in place, it's time to tackle the red tape that comes with buying a property. Solicitors and conveyancers can help oversee the process that transfers the legal ownership of the property from the seller to you.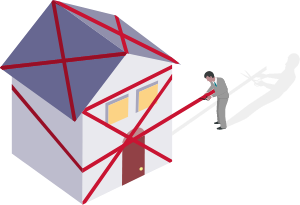 What's the difference between a solicitor and conveyancer?
Solicitors and licensed conveyancers will handle the property transaction using almost identical procedures. Conveyancing is the technical term for the legal transfer of property from one individual to another – something which solicitors and conveyancers are both capable of.
Conveyancers are specialist property lawyers who focus mainly on residential property, so they're well-versed in handling transactions like yours. Solicitors have training in many aspects of the law and can offer services in addition to property advice.
Throughout the house purchasing process conveyancers will:
Be the point of contact between you, the seller and your mortgage lender
Scrutinise any contracts that pass between these three parties
Take care of stamp duty
Sort the Land Registry
Look out for structural risks, including subsidence
Choosing a solicitor or conveyancer
If you're looking for legal help to tackle complex issues that are wrapped up in the purchase of the property – say for example that the sellers are getting divorced and splitting the assets of the house – it might be worth your while getting a solicitor. If it's a relatively straightforward purchase, appointing a conveyancer could be gentler on your wallet.
The best thing to do is to shop around before jumping in. Use the HomeOwners Alliance's comparison tool to find the cheapest, nearest and best-rated conveyancers.
Think you've found someone? Test their mettle by asking how much they charge, if they've dealt with similar cases to yours, how often they'll be in contact, if they're part of any regulatory bodies, and if they're approved by your mortgage lender.
Valuations and surveys
Once you've chosen a conveyancer, it's time to arrange a valuation of the property to determine its value and to prove to your mortgage lender that it's good enough to lend against. Your mortgage adviser will arrange for this.
You can also arrange for a surveyor to carry out a comprehensive inspection of the property to pinpoint any structural or underlying problems. Your mortgage lender, solicitor or estate agent will likely recommend surveyors to do this.
Independent surveys fall into two categories:
1. HomeBuyer report
This will provide information on the property and location, an assessment of damp-proofing, drainage or insulation, the condition of the building's timbers, damp tests and details on major faults and problems that need dealt with urgently.
2. Building survey
Typically used for older houses or those of non-standard construction, building surveys describe the condition of each element of the house and identify the property's defects, their cause, urgency for repair, maintenance options and an indication of associated costs.
If your independent surveys reveal that repairs will be costly, get in contact with your solicitor or conveyancer to get clarification on next steps.
Can I withdraw my offer?
If your survey uncovers hidden problems that you're not happy to take on, you're well within your rights to haggle a lower price, ask the seller to sort them before you move in, or you can withdraw your offer entirely as long as contracts haven't yet been exchanged.
If you do decide to pull out after contracts have been exchanged, you're legally responsible for paying the amount agreed in the contract. And if you're a buyer in Scotland, you could even face a court order to hold up your end of the contract as well as being sued by the seller for the associated costs they've racked up.
So, if you're having cold feet, it could be best to jump ship before committing to a property you've got doubts about.
"
Gurdeep's tip
"To ensure you're getting the most for your money, pay for a survey to get an in-depth overview of the property's condition. If there's a minor defect, like the bathroom's a bit old, take that into account when making an offer. By getting things like the Home Owners report in place, you'll be able to bring faults to light. And remember, any property that has had a sale fall through should be questioned."
Step 8: Get home insurance
Now that all surveys are complete and you're happy with the condition of the property, you've edged that bit closer to the finish line.
But before you exchange contracts and start moving in, you need to sort your home insurance – especially as the majority of lenders won't give you a mortgage offer until buildings insurance is in place.
What does home insurance cover?
With home insurance from AXA, we'll protect your home and personal belongings from the unexpected – such as flood, fire, theft or accidental damage – and save you from the stress and expense of trying to put wrongs right.
AXA offers two main types of cover:

As well as protecting your home from a variety of unforeseen events like floods, storms, fires and theft, this also covers your exterior and interior walls, outbuildings, fencing, roofs and floorings.

Typically this covers things like clothing, furniture, electrical items, money and jewellery against theft, fire, floods and storms. We'll cover your belongings against loss, damage, or theft. Our AXA contents policies also provide you with bicycle cover as standard (limits apply), plus you may have the option to specify higher value bicycles and other high value items too. Cover is subject to acceptance and additional premiums will apply.
"
Gurdeep's tip
"As a home buyer, you should be thinking about getting the best insurance deal from the get-go, so that you can factor in how these costs will impact your budget. Leaving it last minute isn't going to get you the best price. Plus, most mortgage providers require you to have it in place for the day that a house purchase is completed because you're taking full responsibility of the property from this date. The earlier you get home insurance sorted, the better."
Your house is more than just bricks and mortar, it's your home. And we know that the protection you need isn't one size fits all. That's why we offers three cover levels – AXA Premier Home Insurance, AXA Plus Home Insurance and AXA Home Insurance – so you can tailor your policy to your needs to help you take care of your home no matter what step of the property ladder you're on.
Step 9: Completing the sale
Well done! You've made it to the final stage of the house-buying process! Now all you've got left to do is sign and exchange contracts and move in.
Finalising the exchange and sale is often the longest part of the home-buying process. It can be as quick as a few weeks to as long as a few months. Keeping organised and responding to any and all questions with as much information and as quickly as you could should help things tick over nicely.
Before signing a contract
Before you put pen to paper, make sure that you've dotted all the i's and crossed all the t's by checking that you've completed the following.
---
Carried out an independent house survey
---
Obtained a written mortgage offer
---
Got buildings insurance in place (starting from the date of property exchange)
---
Requested your Help to Buy: ISA bonus (if applicable)
---
Signed all relevant documents and sent them back to your solicitor or conveyancer
---
At this stage it's your solicitor or conveyancer's responsibility to:
---
Confirm that the seller has carried out any repairs they agreed to following surveys
---
Checked for planning or environmental issues
---
Set a date of completion with the seller's solicitor
---
Arranged to pay an exchange deposit on your behalf
---
Is all of the above locked and loaded? Then it's time to exchange contracts.
Exchanging contracts
Once you and the seller's solicitors have agreed the purchase details in writing, the seller will be ready to pass over the deed and contracts can be exchanged.
You'll sign a contract agreeing to become the legal owner of the property. Once signed, your solicitor will exchange contracts with the seller's solicitor and you'll sign this. After this, the agreement is now legally binding, meaning neither you or the seller can back out with facing hefty penalties.
Paying the exchange deposit
With contracts exchanged, it's time to pay the seller the exchange deposit. This reaffirms to the seller that you're definitely going to go through with the purchase of the property.
Those long months of budgeting like a pro have finally paid off and it's finally time to put down your deposit savings to secure your new home. Keep in mind that if you back out at this stage, you lose your deposit entirely.
If you're looking to cash in on your Help to Buy: ISA bonus, then you've still got a few weeks to wait. These bonuses are only paid out after the exchange of contracts. You can ask your solicitor to agree to a smaller exchange deposit with the seller until this Help to Buy bonus arrives.
Setting a completion date
During the process of exchanging contracts, solicitors from both parties will have set on a completion date. If they fail to have the sale wrapped up by this agree date, the legal firms can be sued for holding everything up, so you'll often find that it's in their best interests to make sure everything runs like clockwork.
Generally, completion dates on a house purchase tend to take place two weeks following contract exchange. However, it's entirely up to you and the seller's circumstances.
As a first-time buyer you don't have the pressure of having to sell a property, so you can decide to extend or shorten this time as you see fit if it suits the seller. Leaving more time could give you more time to spend organising you're the big move. Be clever about it. Moving home is one of the most stressful things you'll do, so give yourself plenty of wriggle room to get everything sorted.
Friday is the most popular day of the week for property completions because it leaves you the weekend to get settled in. This also means that you need to get ahead of the crowd and book up conveyancers and removal firms as quickly as you can.
What to do on sale completion day
Once you've decided on a completion date, all you have to do is wait for your solicitor to ring to let you know that your mortgage and deposit has been transferred to the seller and the sale is finally complete!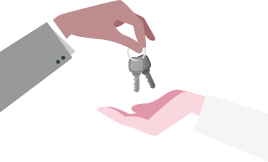 Waiting around can be pretty nail-biting, but if you've followed the home-buying process down to the wire, you've got nothing to worry about.
Received the call? High-fives all round, you're officially a homeowner!
"
Gurdeep's tip
"You can back out of the home-buying process right up until the exchange of contracts. Once the contract has been exchanged, you're legally responsible for the property, so make sure you're 100% on your decision, otherwise you could be made to cover resale fees and other seller losses, which could prove costly."
Step 10: Move in!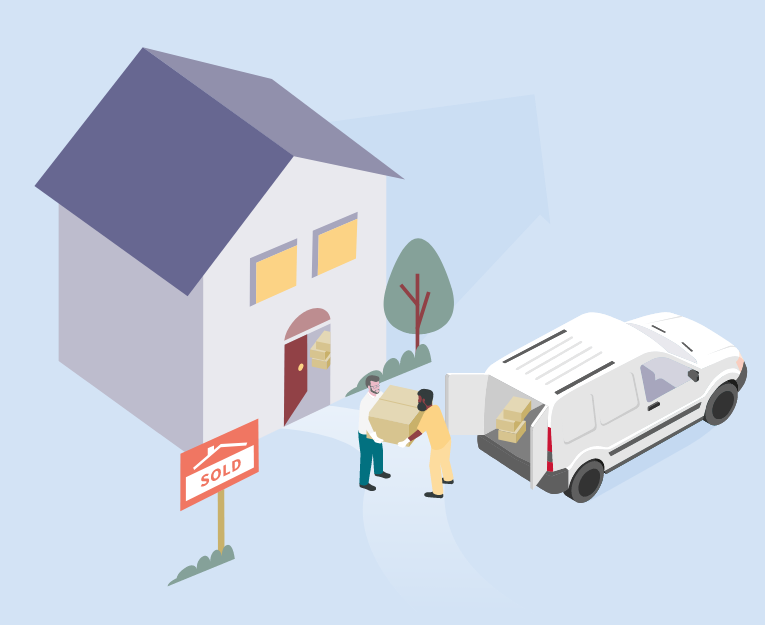 It's been a hard slog, but you're finally the owner of your humble abode.
But before you start packing all of your worldly possessions into boxes, highlighting that must-have furniture in your IKEA catalogue and ringing up removal companies, make sure you call in all those favours from your family and friends so that there's plenty of hands on deck when moving day arrives.
Try not to stress too much. By keeping organised and calm, everything will work out fine.
Have fun making your house a home!