Running a business is tough. From keeping on top of your finances to getting your business known through networking, it takes plenty of grit and determination to turn your business dreams into a successful reality – and even more resilience to pick yourself up and try again if things don't turn out as planned.
But being your own boss comes with plenty of benefits too. And for Wendy Harris, the owner of WAG Associates, being able to grow a healthy network of satisfied customers while balancing commitments at home are just some of the many reasons she relishes being in the driver's seat of her business.
Here, Wendy chats how she's benefitted from having a strong work ethic instilled in her from a young age, why she thinks clear communication is central to a successful business, and just how important it is to pick yourself up and try again if your business ideas don't quite turn out how you thought the first – or even the second or third – time around.
What inspired you to launch WAG Associates?
It's a long story! I've always been a bit of grafter. By 17 I had worked in waitressing, hotels, and then landed a job in telesales where I worked my way up looking after the national accounts of the company I was working for. Due to the department's relocation I found myself taking time out and going back to hospitality in Cornwall where I had family.
I returned to the Midlands, got married and had my daughter before going back to the original telesales position because the company realised performance was down in the new area and brought it back. I wanted to be a saleswoman, but the company felt they could do away with this because I did such a good job on the phone.
A little disheartened I took a new position for a small software company, learned a new industry and went on to set up on my own software sales business. Unfortunately, my circumstances changed at home, so I gave up the business and went off to work for a bank. This was at the height of the loans scandal, so I didn't stay long because I felt customers were being exploited.
I fell into telecoms but became a bit disillusioned with how dog-eat-dog the sales world can be. That's when I decided to launch my second business – a franchise called About My Area. This involved getting local businesses and not-for-profit charities to use our website as a tool to promote themselves. I made money by selling advertising through them. However, new rules came into play which meant I had to relinquish a lot of my business to head office's control. As you can imagine, being told what to do by someone else wasn't why I set up my business in the first place, so I refused and was locked out.
It was crushing at the time, of course, but I become friends with some franchisees who found themselves in the same situation. And that's where WAG Associates came into being.
I set up WAG Associates, my third business, in 2006 and a lot of the clients I worked with in my franchise days were happy to work with me again, which was just amazing. They started to recommend me to other local companies they knew and my business went from strength to strength.
I had my youngest daughter in 2008, which was when the financial crash hit. This made running WAG Associates that little bit harder. Although the financial crash was dreadful and losing two of my businesses was frustrating, without these experiences I never would have the drive to launch WAG Associates, or gained the experience that's kept my business going for over 13 years. I'm really thankful.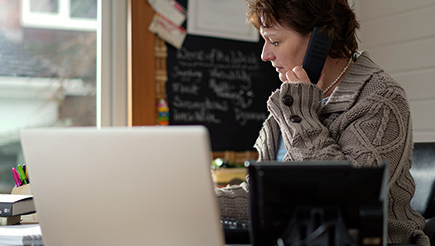 What are your professional goals with WAG Associates?
I am known for getting on the phone to help promote my clients. My aspiration is to help small businesses grow by showing them how to identify new audiences, prospects and clients and make the calls themselves. When people come to our marketing workshops, they become part of my professional network. I can refer them to other businesses that I've worked with who can benefit them.
WAG Associates is about teaching businesses how to sell their products and services to customers to the best of their ability. Not all business owners are comfortable making calls and that's what I work on with them. All good business-customer relationships start with meaningful conversations.
What do you enjoy the most about running your business?
Being able to call the shots of how the business operates means I have loads of flexibility when it comes to how I work. As a working mum, this flexibility has helped me prioritise my family life and build my work schedule around it in a way that works for me. So, if my daughter is sick at school, I can go and collect her. When the dogs need walking, I can go out whenever I want.
Running my own business has given me loads of freedom and flexibility and I don't have to answer to anyone except myself, which is great.
Why is working hard such an important value to your business?
I think working hard has been rooted in me from a young age thanks to my parents. Given that my Dad advised me that 'what goes around comes around tenfold', I think that's why helping my clients to be successful is so important to me. My stepfather always used to say to me: 'You're only going to get out of life what you put in, so if you sit around, you're not going to get your bills paid.'
By constantly putting the hard work in, opening up and showing the world what I can do, success has come my way. As long as I continue to remain competent in what I do, look after my clients well, and have a passion for the work I'm doing, I'm going to keep on keeping on.
What are the most challenging aspects of running a business?
Being a business owner has been a bit of a rollercoaster. Exciting, but tough. Nobody tells you that while you're busy doing the paid work, you've got to be on the lookout for the next project, be a social media manager and bookkeeper while providing the best customer service possible and getting your business known via plenty of networking – all at once.
You've got to wear so many different hats as a business owner, which can be a challenge. I'm telling you, Worzel Gummidge should have been a woman!
How has running a business changed since you first launched it in 2006?
The way the world communicates has changed so much. Thanks to social media, the majority of business-to-client communication is done online now. There doesn't seem to be much room for face-to-face conversation or even a chat over the phone, which I think can stunt the client-business relationship.
I think you need to get to know the person you're working with and this can only be done by having a meaningful conversation. Nowadays people get scared to phone customers and they email them or instant message them with answers to their queries rather than talking things through fully.
People make their minds up about whether they like you or not just by having a conversation with you. Once customers hear you talking, they can hear how genuine and knowledgeable you are, which can help foster positive professional relationships. And if you're going to keep on making the effort to have these conversations, customers are going to trust you and come back to you and your business.
What have been the most rewarding aspects of running your own business?
My proudest moments are the little things, like getting a LinkedIn recommendation from a client out of the blue, or when customers get back in touch with me to see if I'd like to work with them again. It's nice knowing that I've carried out jobs to such a good standard that clients actively seek me out to help grow their businesses further.
Being able to watch my clients' businesses grow and see them taking on professionals to boost their business further – whether through bookkeepers, copywriters or social media specialists – has been really lovely.
How many people would say that the most rewarding aspect of their business is helping their clients grow by hiring, training and developing new recruits that then put them out of a job? But for me, that's the ultimate sign of success: watching businesses grow through improved communication and highly trained staff.
What's the one thing you know now that you wish you knew before launching WAG Associates?
Looking back, I don't think I would have been quite as trusting. I'm a sharer and can sometimes overshare about my goals, which has resulted in others copying my business ideas for their own benefit. It's easy to get carried away with the enthusiasm and excitement that comes with launching your business and sometimes you can be guilty of broadcasting your plans to everyone and anyone who will listen, which isn't always good thing.
Nowadays you can get a business mentor through the Growth Hub and I wish I had the same sort of confidante when I was first starting my businesses up. Just to be able to sound off my ideas, frustrations and goals to someone who has the experience and is competent in running a business would have been so useful and helped me keep better counsel. It would have been useful to discuss what elements are essential and aspirational when spending money too.
What advice would you give to those thinking of starting their own business?
If you've got a business idea that excites you so much that you can't sleep or concentrate because you're constantly thinking about it, then you must chase it. On the flipside, if you find that running a business means you can't sleep or concentrate for worry, change what you're doing because it's not right. You do have to listen to your gut feelings when it comes to running a business and sometimes this means making difficult decisions – I've been there.
Another thing to keep in mind is that money isn't the be all and end all. Maybe it's because I'm a little older now – and increasingly sounding like my parents – but the longer you run your business, the more you start to place value in different things. Sure, it's great if you manage to make a lot of money from your business, but be careful not to make it a main priority – your business should be driven by a passion for what you're doing.
And remember: not everybody succeeds on the first go. So, if your plans don't go as you imagined, don't get disheartened. Pick yourself up, dust yourself off and keep focussed on what you want to achieve with your business.