Keeping your car running
At AXA, we know how important it is to get from A to B, and we want you to have as many miles of happy motoring as possible. An MOT test is designed to keep your car safely on the road, but when you consider that 10 million cars failed the recently updated criteria in 2018, it's not a bad idea to get a few tips on how to get your car safely through your next MOT.
Servicing will ensure your car is in good condition and catch any issues that might come up in your MOT. By getting your car serviced regularly you'll be surer of it keeping its value for longer, as full-service history is a desirable selling point. You'll save money long term, because the average cost of repairs needed to pass an MOT is over £270, according to the DVLA. And, with more people working from home now, cars are being used less. So by getting your car serviced regularly, you'll avoid any unwanted surprises.
To help you get a clearer picture, we've pointed out some of the benefits of regular car servicing.
Why should I service my car?
Beyond increasing your chances of passing your MOT, there's a whole host of reasons for you to book your car in for a regular service. Check out these other benefits:
Reduced risk of breakdowns
With servicing, wear and tear is easily identified, and parts can be replaced, reducing the chances of your car breaking down at the roadside.

Increased safety


Your mechanic will identify any problems before they can turn into a major safety hazard

Warranty benefits


Having a full-service history is a useful thing and may even come in handy at a later date for increasing the warranty of your car

It keeps your engine healthy


A service will identify any oils and filters that need to be changed to prevent dirt and dust from getting into your engine, keeping it running nicely

Increased fuel economy


Your car runs more efficiently when it's been serviced, saving you money at the petrol pump

Longer vehicle lifespan


You'll get more miles out of a car that's serviced and maintained regularly, reducing the need for an expensive upgrade

Lower emissions


Servicing checks maintain the exhaust system on your car, reducing its impact on the environment

Tyre conditions and safety


Regular servicing will allow your tyres to be checked for condition and tread depth, helping to prevent accidents – particularly in adverse weather

Protect the car's re-sell value


If you ever decide to sell your car, then you'll retain much more value, and you'll get a better re-sale price if you can provide a full-service history for the vehicle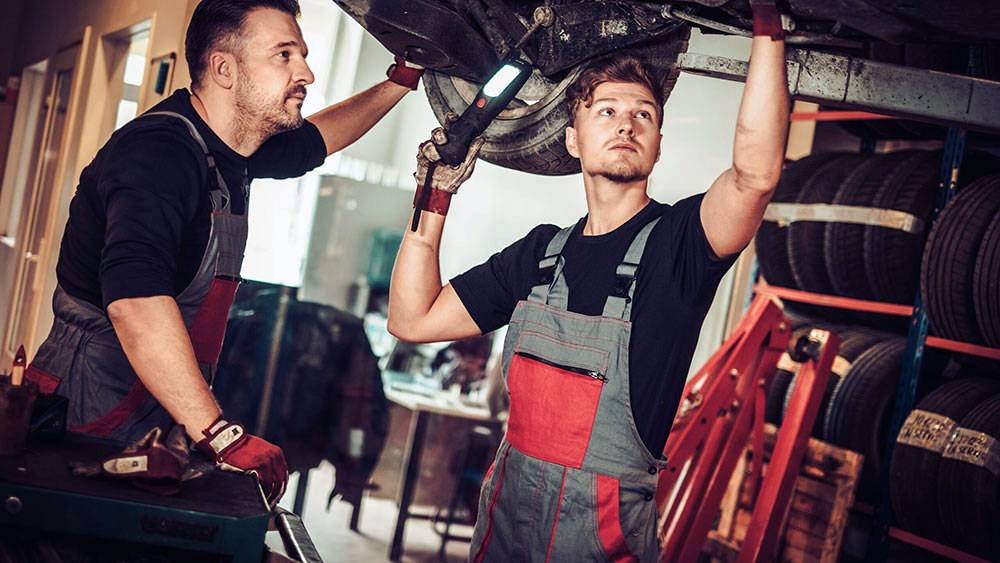 What does your mechanic do when they undertake a service?
Your mechanic will check several different areas when you book in for a service. These will vary depending on the level of service you ask for but will include the following:
Engine oil and filter change
This is necessary to make sure your drivetrain runs smoothly and extends the engine life

Fluids checks


This includes topping up and replacing transmission fluid, brake fluid, power steering fluid, coolant, hydraulic fluid, and windscreen washer fluid

Brake checks


Your mechanic will perform a specialised check of your car's brakes to ensure everything is working as it should and nothing requires replacing

Engine 'tuning'


This helps your engine run efficiently and checks that it's capable of safely handling the car

Other manufacturer's checks


These cover the suspension, shock absorbers, the engine battery, lights, windscreen wipers, exhaust, wheel and steering alignment, etc.
Since each service level offers different inclusions, you should always check ahead of time with your mechanic to see what's included. Suppose you're having an issue in isolation. In that case, you don't have to wait for your next service – all of these checks can be carried out on an individual basis by your mechanic, if necessary.
How often should these checks be done?
The regularity of servicing depends on your manufacturers' recommendations, but generally it's time for a service as soon as your car's service light comes on. This is typically once a year or every 12,000 miles – whichever comes first.
There are four typical levels of service offered by mechanics:
Regular maintenance (often referred to as an oil change)
If you regularly clock up a lot of miles, this should happen any time your oil and filter need to be replaced, to make sure you keep everything running smoothly.
Interim service
An interim service is for high-mileage drivers and should be done every 6 months or every 6,000 miles travelled – whichever comes first. It covers oil and filter changes, other key inspections and fluid checks.
Full service
A full car service is typically required once a year, or every 12,000 miles, whichever comes first. In addition to the services provided in an interim service, your mechanic will check:
Air and fuel filters
Spark plugs change (petrol cars)
Extensive brake inspection
Wheel bearings and shock absorbers inspection
Testing of electrical components (e.g., battery, alternator, and starter motor)
Inspection of the air conditioning system
Radiator and coolant hose checks
Manufacturer service
This service is dependent on your car's make and model. To get an accurate idea of when your car will need a manufacturer's service, ask your mechanic for more details.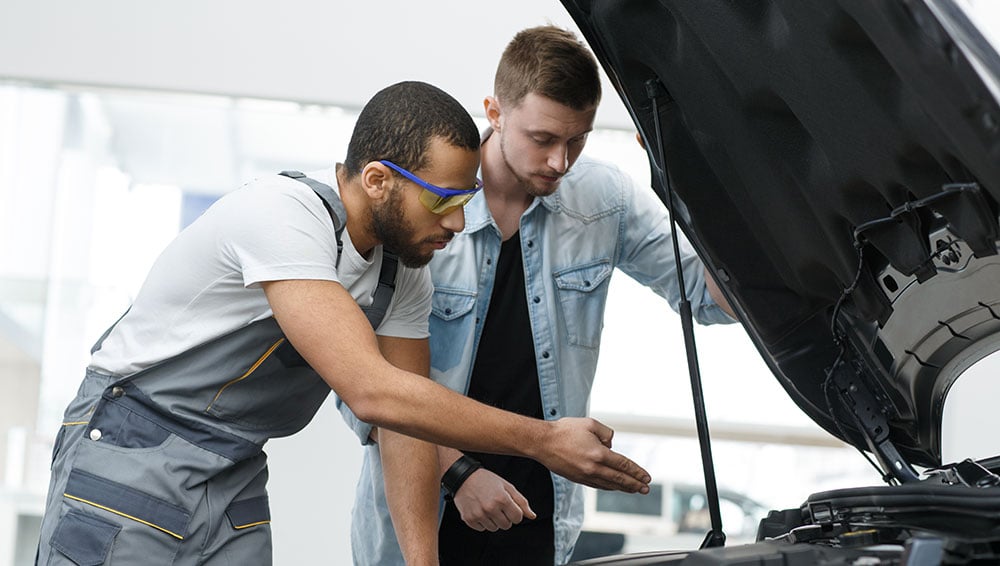 Better value in the long run
Even though you're under no legal obligation to service your car, it'll give you better value for money in the long run. By having your mechanic maintain and replace car parts, you'll reduce the chances of getting stung by a huge bill later for major repairs when something goes wrong. Instead, you'll manage smaller repairs as they're required, helping you to stay on the road for longer and putting more money in your pocket.
As we stated earlier, a full-service history will also help protect your car's resale value. When you can show potential buyers you've taken good care of your car you'll likely get you a better price.
Why AXA car insurance?
At AXA, we want to keep you on the road. So, provided your car is roadworthy (including a valid MOT), AXA car insurance is here to help.