Whether you're driving down to the beach for a family holiday in a caravan, or using a trailer to transport stuff, it pays to know how trailer towing and insurance works. After all, you don't want to find yourself uninsured if you have an accident. In this article, we'll look at everything you need to know about towing a trailer, and how your car insurance can keep you covered.
Can I tow a trailer?
The short answer is yes. A lot of people think that you need a specific "trailer licence", or that you need to take another driving test to tow a trailer. But, that's not the case.
With a normal driving licence, you're allowed to tow a trailer. When you passed your test will have an impact on how much you can tow: Passed before 1 January 1997
| Passed before 1 January 1997 | Passed after 1 January 1997 |
| --- | --- |
| Total vehicle and trailer weight of up to 8,250kg | Vehicle weight of up to 3,500kg and trailer of up to 750kg |
If you have a provisional licence, you can still tow a trailer. But you'll need to have someone with you who has had their licence for at least three years, and you'll need to attach L plates to the trailer.
You can find out more about the restrictions on the government's website. So, unless you're planning to take your towing to the next level, it's highly likely you'll be able to hitch a caravan to your car and hit the road.
Driving with a trailer
Once you're ready to go, you'll need to be aware of how a trailer or caravan will affect your driving. There are plenty of different rules and regulations you need to be aware of before you set off.
Firstly, you'll need some kit to attach to your trailer and car. This includes:
Towing bars
Towing mirrors
Breakaway cables
A number plate to attach to the trailer
Indicating lights
Straps and covers to prevent anything falling off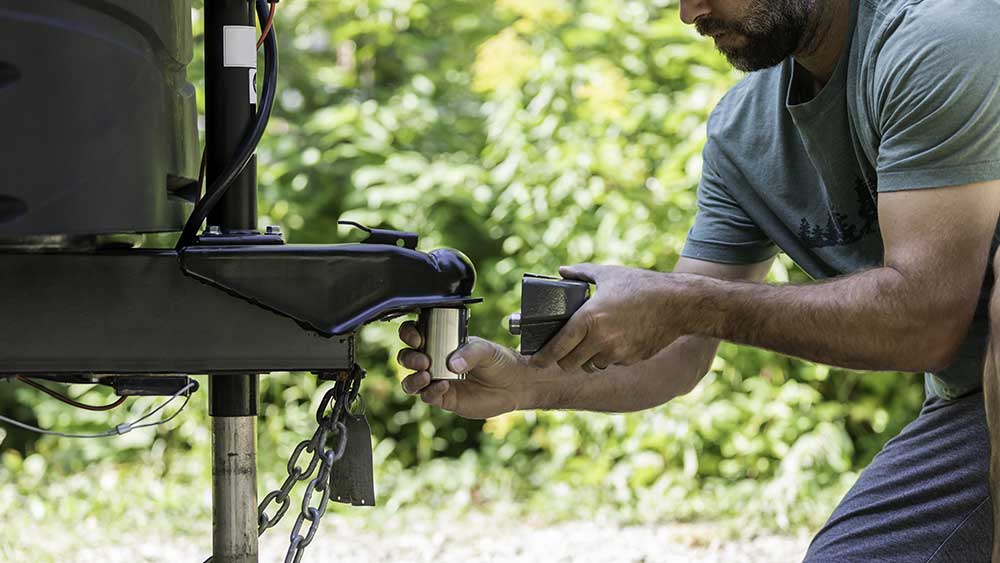 You'll want to make sure the trailer is properly connected to your car before you head off. You won't get far before you've got an accident on your hands otherwise. You should also make sure that the trailer is roadworthy. This means checking over the trailer's wheels and tyre tread, as well as making sure that all the lights, couplings and brakes are in good working condition. If you're unsure get a free trailer safety check from the National Trailer & Towing Association to help you out.
Finally, make sure you check your car's wheels and tyre tread before setting off. The additional weight will add more strain to your tyres, so make sure they're in good condition.
When you're on the road, you need to make sure you stick to the speed limit. These limits are slightly different depending on whether you're towing a trailer, and the total weight that you're towing. The government website has a handy table, showing you the different speed limits.
Driving with a trailer can feel a little odd, and it does take some getting used to. Try to take corners a little wider than you normally would. If you turn too sharply, the trailer may cut the corner behind you. When it comes to reversing and parking, it can be slightly confusing at first. You'll want to start by turning the opposite way to where you want to turn. This will turn the trailer in the correct direction. You can then straighten up and reverse into the space. It may take some time to get it right, so a bit of practice may help you out.
If you find the trailer starts to swerve, don't worry. Just ease off the accelerator and slowly reduce your speed. Swerving tends to happen if you're driving too fast, or if the trailer is loaded incorrectly.
Does my car insurance cover towing a trailer?
With AXA Car Insurance, you're covered for third-party liability while you're towing. This means, should an accident happen while you're driving with a caravan or trailer in tow, you'll be covered for any injury or damage you may cause to a third-party. However, this does mean that any damage to your trailer or anything inside of it won't be covered. So, make sure you drive carefully whenever you're towing, and stick to the speed limit to reduce the risk of an accident.
Time to tow
We know it can be a bit daunting towing a trailer or caravan (especially for the first time). Hopefully you've now got a better idea of how to properly prepare, what to do when you're driving, and how your car insurance has you covered. If you're ever in any doubt, the government website and the National Trailer & Towing Association should help you.