Sometimes, it's not put up or shut up – it's do up or sell up. When your home stops working for you, it's natural to think about ways to improve it. So which headache do you choose: house renovation for a bigger home, or moving to something new entirely?
We've put together a guide for the pros and cons of each, to help you understand the best plan of action.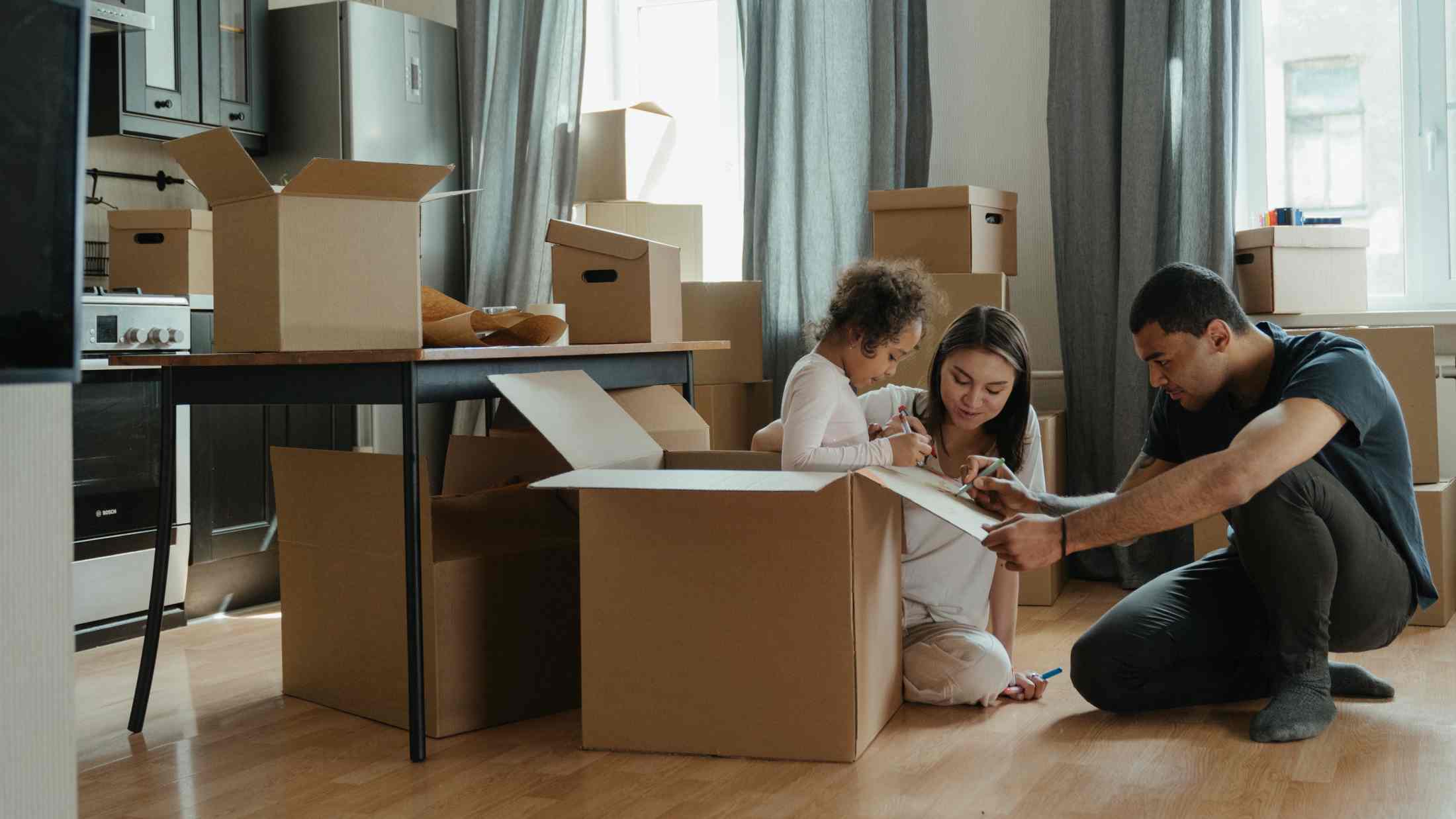 Moving house
The pros
of moving house
What could be better than a completely empty house, ready for you to put your mark on it? If you need more space, buying a new house can help as you'll suddenly gain extra bedrooms and bathrooms. Alternatively, downsizing to a smaller property can help you de-clutter and release equity – which could be useful if you need an extra bit of cash flow.
New builds will also be full of the smell of fresh paint – just waiting for you to design. You can spruce it up however you want. It could also be easier to make small renovations – like changing room layouts – in a totally new environment. Finally, moving house means you'll be in a totally new area. It's your chance to get closer to your job, find a better neighbourhood, or get in the catchment area for the best local school.
The cons
of moving house
No matter if you're moving up the property ladder or downsizing, moving costs money. Beside mortgages or deposits, there are also the estate agent's fees, stamp duty and a whole host of other associated costs.
You'll also need to consider whether you want to leave your neighbourhood. Even moving to a bigger house down the road might be less efficient than just remodelling your current home.
And that's without the potential pitfalls of new home ownership. You may still have to do work to make everything exactly the way you want it – whether that's getting double-glazing fitted or rehanging slightly wonky doors.
It's important you let your insurer know of any change in address before you move. Did you know, with AXA Home Insurance you can change the details of your policy to your new home address in your AXA Account1 without paying an admin fee?

House renovation
The pros
of house rennovation
On the other hand, renovating your current home can be an easy way to get what you want. De-cluttering can open up lots of space, while putting up partitions or knocking down walls can change the feel of your home without being anywhere near as expensive as moving. You can also leave in place everything you love – like that perfect family bathroom, or the period fireplace in your living room.
Even better, any changes you make to your home now can add value to the property in the future. House prices seem to be steadily increasing year on year at the moment. Renovating now could pay dividends in 10 or 20 years' time, when you're more ready to move.
The cons
of house rennovation
Renovations can be limited. Planning permission for large extensions or basements are sometimes hard to obtain. You also only have the size of your plot to work with – it may be physically impossible to add more space into a mid-terrace house. If there isn't room to expand, you won't be able to grow.
Renovation work can be messy too. There's bound to be all kinds of disruption, even from doing something as mundane as painting a room. Working on the kitchen makes cooking impossible, while building a new bedroom could leave people sharing rooms until the work is done. Hopefully your neighbours will understand: the last thing you want is to spend another 10 years living next to people who hate your new conservatory.
If you do plan on making any major structural changes, please remember to advise your home insurer beforehand. Your insurer can then let you know if these changes will affect your home insurance. Adding in new bedrooms, bathrooms and other rooms may result in an additional premium or your cover being invalidated. The type of material used in these renovations may also impact your home insurance.
1 Changes to your policy home address will be subject to eligibility.