Along the coast of Cornwall, by the white beaches near St Austell, a superhero stands tall. This isn't your typical, Marvel-style superhero. Instead of tights, she wears three-quarter length trousers. Instead of knee-high boots, she opts for sandals. Instead of a cape, she ties a waterproof jacket around her waist (you never can trust the British weather).
This superhero's weapon of choice? She has two, actually: in one hand, a large recycling bag, and in the other, a heavy-duty litter picker.
Meet Pat Smith, the 71-year-old eco warrior also known as "Action Nan".
Pat set herself a mission to clear the plastic from 52 beaches in Cornwall and Devon. The former teacher sprang into action after watching a documentary called A Plastic Ocean, which detailed the scale of plastic pollution damaging the world's oceans and killing sea life.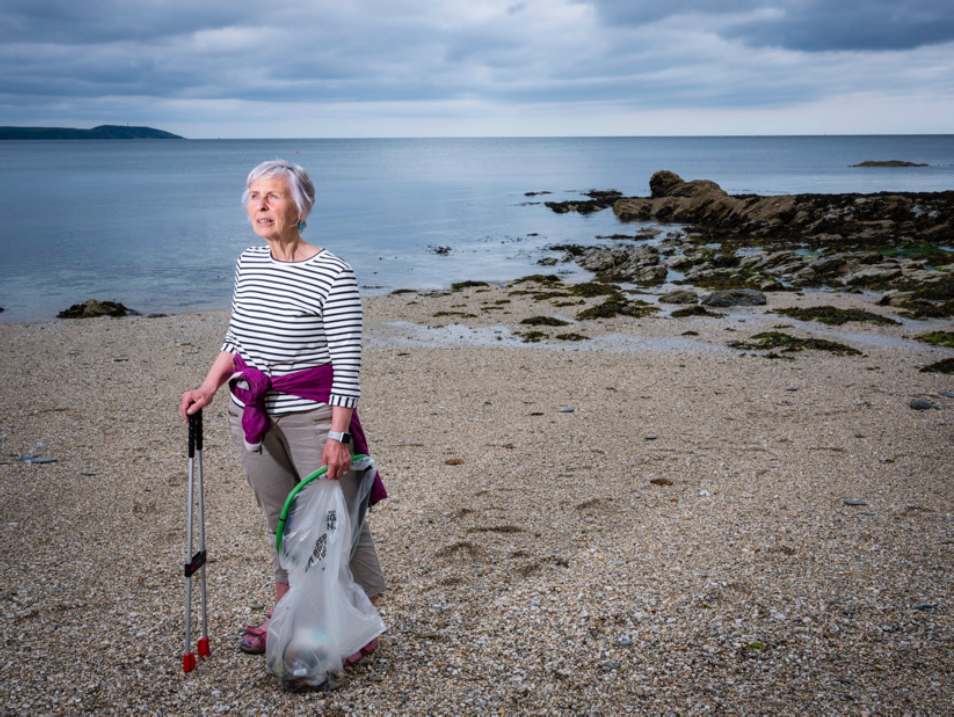 "It was really life-changing for me," says Pat.

"Until that point I hadn't realised there was a problem with plastic in the ocean. I went home from that film and I was really bothered. I thought, 'my God, this has happened in my lifetime. This is my generation.' We have been consuming plastic so much that we are causing an ocean crisis. I said, 'I've got to do something about it'."
As well as beach-cleaning, Pat launched a campaign called Final Straw, aimed at making Cornwall the first plastic straw-free county in the UK. Within a matter of months she persuaded hundreds of local businesses to agree to stop using plastic straws.
From January 1 until December 31, 2018, Pat cleaned one beach every week, scouring the rock pools and washed-up seaweed for everything from bottles to abandoned fishing nets. Yet even with the year over and her mission complete, she hasn't stopped. Pat is still picking up litter - and so are her grandchildren in the playground.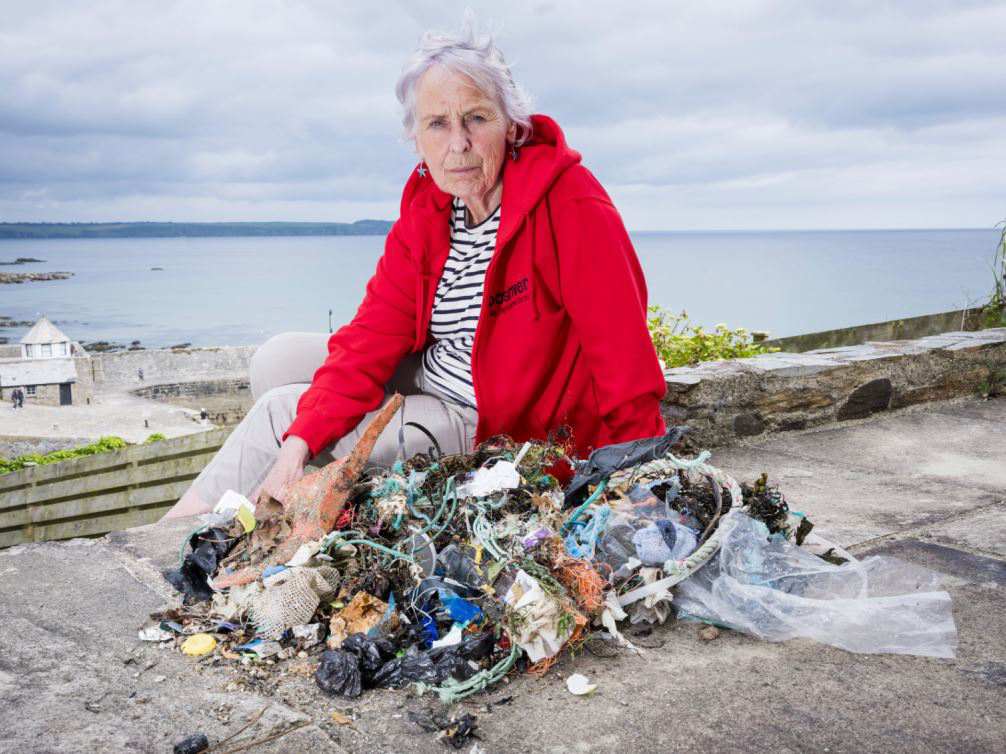 "My four-year-old granddaughter is amazing," says Pat. "She just walks in front of me and shouts, 'Plastic, nan! Plastic!'

"My daughter-in-law said last week that she had organised a litter-picking in the playground with the other children. The teacher spotted her picking up crisp packets. That just shows you that, when they are exposed to what you do, they think it's quite normal."
Joining Pat today is Marta Olazabal, a research fellow at the Basque Centre for Climate Change, who has travelled from Bilbao, Spain to Porthpean Beach in Cornwall to help her give it a tidy. She is also here to talk to Pat about her hopes for the future.
With the help of the AXA Research Fund, Marta has spent the past two years studying how coastal cities are preparing for climate change. Her work involves investigating the policy documents of 136 cities across the world and outlining whether public authorities are ready for the uncertain challenges which lie ahead.
Marta explains: "I proposed to AXA to do worldwide research on coastal cities, analysing what the plans are for the next ten years and the impact they are facing. The AXA Research Fund is critical to my research. It gives me the flexibility, time and the resources to get this work done as soon as possible, and to disseminate my findings among governments and the public, so we can understand our need to prepare for climate change."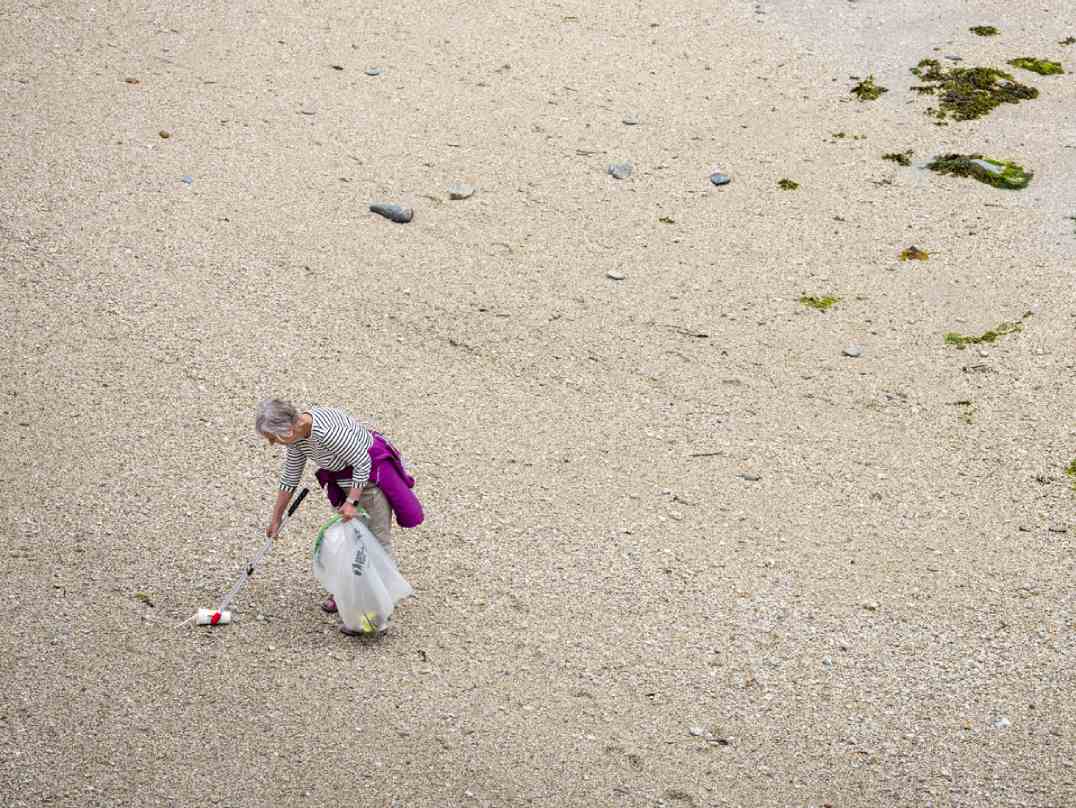 Pat and Marta's individual crusades may sound entirely different but they are intrinsically linked. A recent study found that by 2050, plastic will be responsible for up to 13% of the total 'carbon budget'. So not only is the litter Pat picks up helping to destroy our oceans, it is contributing to a host of other dangers, like global warming, rising sea levels, melting ice caps and even damaging fish stocks. AXA-funded research by Dr Cosima Porteus found that plastic pollution in seas is leading to fish losing their sense of smell, causing them problems mating and finding food. This could lead to damaging effects on conservation, fish stocks and the global food supply. Researchers predict that some species of fish could become extinct.
"You can't do what I'm doing in cleaning beaches without being aware of the overall problem with fossil fuels, plastic pollution and climate change," says Pat. "I was fascinated to hear about what Marta is doing. Plastic pollution is very much linked with climate change."
Marta agrees. "People like Pat inspire others to do things and to take action for climate change and for environmental issues," she says. "It is now time to stop worrying about the planet and do something. Plastic has not been removed totally from the planet, only from these beaches. And more and more plastic will come, because it is concentrated on the sea's surface, so we need to keep up this work."
Written by Ally Farrell, Wednesday 31st July 2019, for The Sunday Times