When Anne Prince was younger, she used to go on family holidays to Dorset. By the sea in Mudeford, to be precise. She would walk along the harbour and have fish and chips at the beach. The sun always seemed to shine.
Today, Anne is back in Mudeford. In fact, she's cycling through it. Past the multicoloured beach huts and whizzing by tourists, before pulling up next to the pub.
The sun is still shining, yet Anne isn't really on holiday. And she isn't really in Mudeford. Instead, she is upstairs in the activities room of her care home, the Sunrise in Winchester, where she is pedalling away on an exercise bike attached to a flatscreen TV. While Anne pedals, the screen flashes up footage of Mudeford, transporting her back there from her seat.
Anne is 77 and in the early stages of dementia. And this simple yet liberating piece of technology, called Motiview, has been shown to have a positive effect on elderly users' mental wellbeing – not to mention the obvious physical benefits.
Created by engineers in Norway, it allows elderly people to go on virtual cycling trips around the world from the comfort of their home. Users can choose to cycle through places that truly mean something to them – their hometown, the location of a past holiday, or somewhere special to them and their partner. The significance of this to someone battling dementia cannot be overstated.
"For people with dementia, the bikes have been amazing. As they sit and pedal, they can visit lots of different countries – where they were born, or somewhere they might have gone to as a child. As a result, they engage in a conversation, from which they start to reminisce. It's amazing to be able to share that with them."
Anne struggles to communicate like she used to, but as soon as she sits on the bike and starts pedalling, she comes out of her shell.
"When I met Anne, she was a very, very scared lady," says Zoe. "Leaving her home to come into this completely new environment was difficult for her. She was very reserved, not great at making friends, very quiet. But as soon as she got on the bike, it was like seeing a different person.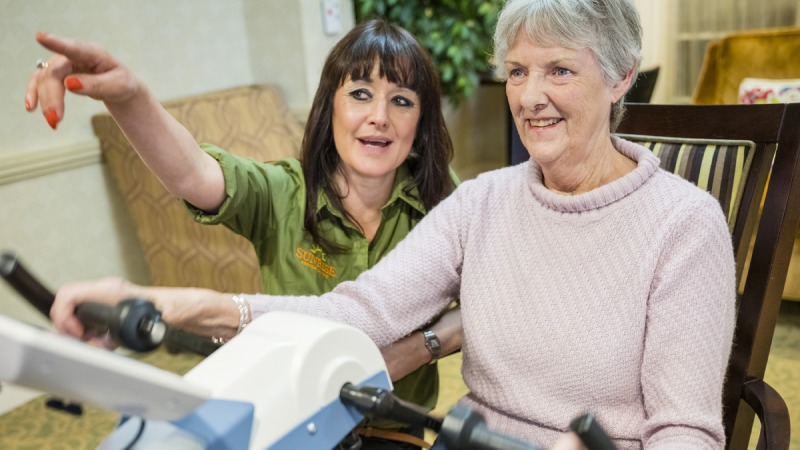 "The bikes have been amazing," says Zoe."She was chatty, she was pointing things out: 'I remember living there' and 'I remember going on holiday there'. There was just this instant beam on her face. Anne has used the bike on a daily basis and the difference I've seen in her is just amazing. She is more confident, she will come down here, talk to the residents; share her reminiscing with them. She would never have done that before."
Leading the way in support for dementia-beating technology is the insurance firm AXA. As well as training up its workforce to be Dementia Friends, AXA dedicated an entire category to 'Innovation in Early Diagnosis of Dementia' at its annual Health Tech & You Awards in May. The firm's mental health lead, Eugene Farrell, explains:
"At AXA, what we are trying to do is help people live better lives. And by looking at innovations in technology, we think we can do that. The cycling initiative is a great piece of technology that helps people with dementia."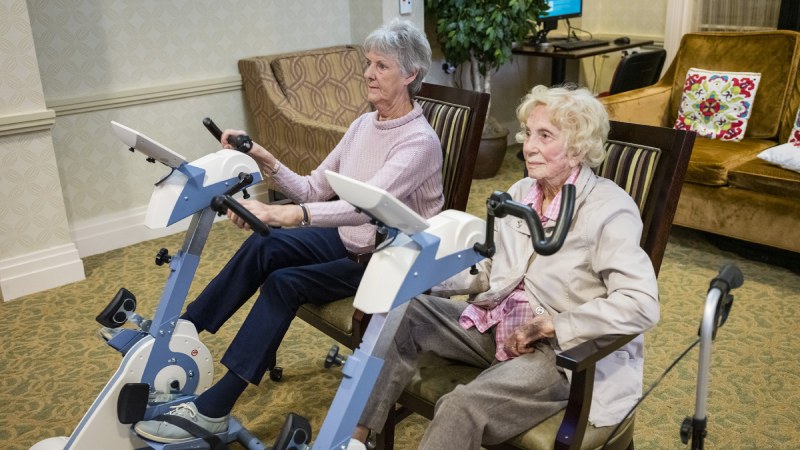 Jean Borchersen thought her days of travelling the world were over. She recently turned 88, requires a walking frame to get around and had resigned herself to living out her final years at the care home. But she always wanted to see Rome – and now she has, thanks to the bikes.
With the Italian capital ticked off, Jean cycles through Hong Kong, Singapore and Toronto – all in the space of 30 minutes. Her daughter Jane can't believe what she's seeing.
"It has been really incredible to see my mother change," says Jane. "Three years ago, she was pretty much bedridden, and to see her now exercising on a daily basis like this is extraordinary."
Written by Ally Farrell, Friday 28 June 2019, for The Sunday Times