Our Health Tech & You awards programme recognises brilliant thinkers whose ideas could make a real difference. These innovators often have a personal reason for seeking to solve a health issue such as wanting to help a family member with a life-limiting condition.
Whatever drives these creators on, our awards programme exists to support and champion them. Not only do the winners receive extensive media exposure and prestige within the industry, they also get to help the real winners: the people whose lives will be transformed by these technological advances.
Meet the 2018 Winners & Finalists
Aparito
A digital health platform providing wearable devices and disease-specific apps to give patients remote monitoring. This provides real-time data showing subtle differences in ambulation and sleeping patterns, which enhances diagnosis, treatment and drug development. Aparito is also developing a tool which measures differences in speech patterns.
Cognetivity
This integrated cognitive assessment tool spots early signs of impairment by testing the brain's performance. It gathers new data, improving its ability to diagnose. As well as detecting dementia, this can be used to remotely monitor the progression of diseases and measure how effective treatments are.
DECODE
DECODE increases the timely diagnosis of dementia, reducing unnecessary assessments. It provides a personalized estimate of dementia probability within minutes and detects milder cases and unusual dementia subtypes. There are clinical implementation possibilities as patients, carers and clinicians suggest DECODE is acceptable and feasible to use.
Memrica
Still in its concept stage, this system aims to detect changes in physical and social behaviour as an early indicator for dementia. Memrica has been reviewing previous research in order to bring separate strands of thinking and analysis together to create a simple indicator of risk.
See how technology is making a difference to Dementia
BrightSign create incredible Sign-To-Speech Smart Glove
With 70 million people using sign language, the BrightSign Smart Glove is a global game-changer.
Imagine giving a voice to people who can't speak. Except they don't talk with their mouth, they sign it with their hands and a computer announces the sentence from their wrist.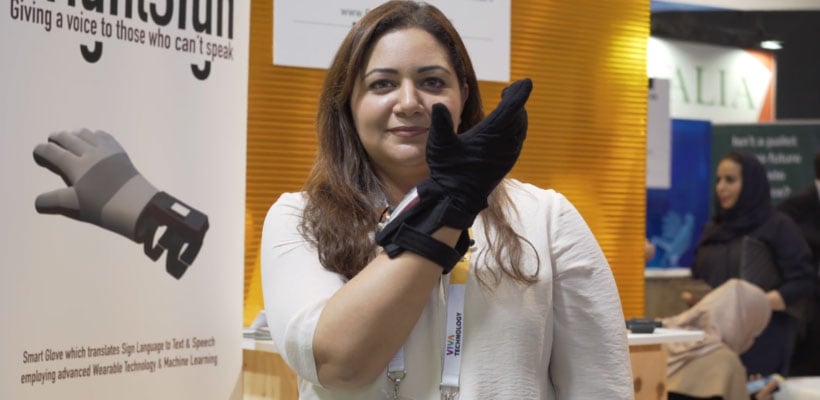 A truly integrated cognitive assessment from Cognetivity
Dementia diagnostic tests hadn't developed for years. So using ground-breaking research and forward thinking technology, we created a rapid cognitive analysis tool, making early detection a reality.
Artificial Intelligence interprets how the brain responds to images and in five simple steps we get an accurate evaluation.